Anyone else feeling the need to detox themselves from all that sugar throughout the holidays? Join me in the 1 week sugar detox! #ffhsugardetox
Come on, I cannot be the ONLY one feeling a little bit more plump from all these holidays, am I?!
See when baked goods and chocolate are around every corner I turn back home, I can't help but to constantly eat it! And we all know how it goes: the more you eat sugar, the more you crave it.
Join me in this ONE week sugar detox January 3-10 to start off 2016 fresh, fit, and healthy?!
First off though, let me give a disclaimer that this is in NO way out of wanting to restrict myself or be restriction around food in any way. It is simply a way to detox my body of all sugar to get my cravings back on track for the right things 🙂
So here is how I'm going to go about it, in case you want to join in!
January 3-10, NO SUGAR

If you have followed me for a long time, you know I did a 21 day sugar detox a couple years ago #craziness. I'm not going that long this time, but just a week to clear it out of my system!

Unlike last time around, I WILL ALLOW Stevia, so that I can have my protein powder (from About Time) I sue frequently that is sweetened with only stevia
I WILL be allowing things that naturally have sugar, like fruit and unflavored greek yogurt (or other dairy)
I WILL NOT be allowing any other artificial sweeteners OR real sugars of any kind

NO honey, agave, splenda (

including "sugar free" products

that are SO processed), or any foods/condiments/sauces with sugar
This can be hard if following strictly, because you have to watch labels. There is sugar in things like GUM, Sriracha, ketchup, dressings, my gummy vites (lol), PB2, many of the processed sliced meats, protein bars, flavored yogurts, mints, and more!
Join me? Come on, it's a short one, only one week! #FFHSugarDetox
You may be thinking, what are you going to eat if you can't have all those things listed above??
Tips:
Fruit:

Well I've got lots of ways to satisfy my sweet cravings NATURALLY. Fruit is nature's candy. Who needs cake when so many fruits are super sweet and delicious?! And dried fruit is also a great way to satisfy those cravings

Coconut Oil:

Ever tried to add coconut oil to your coffee instead of sweetener? It's actually a great way to drink it! (I did it last sugar detox since I can't drink mine black)

Avocado Chocolate Mousse:

I LOVED making this last detox, by just mashing avocado, adding unsweetened cocoa powder and coconut oil to it, and a touch of stevia and sea salt! (since I am allowing small amounts of stevia this time)

Hashtag #FFHSugarDetox and tag me in any posts on instagram (@freshfitnhealthy), so that we can encourage and support each other!
Keep up-to-date with things I'm eating to help you and encourage you through my insta and on my snapchat (Sarah_Grace11)!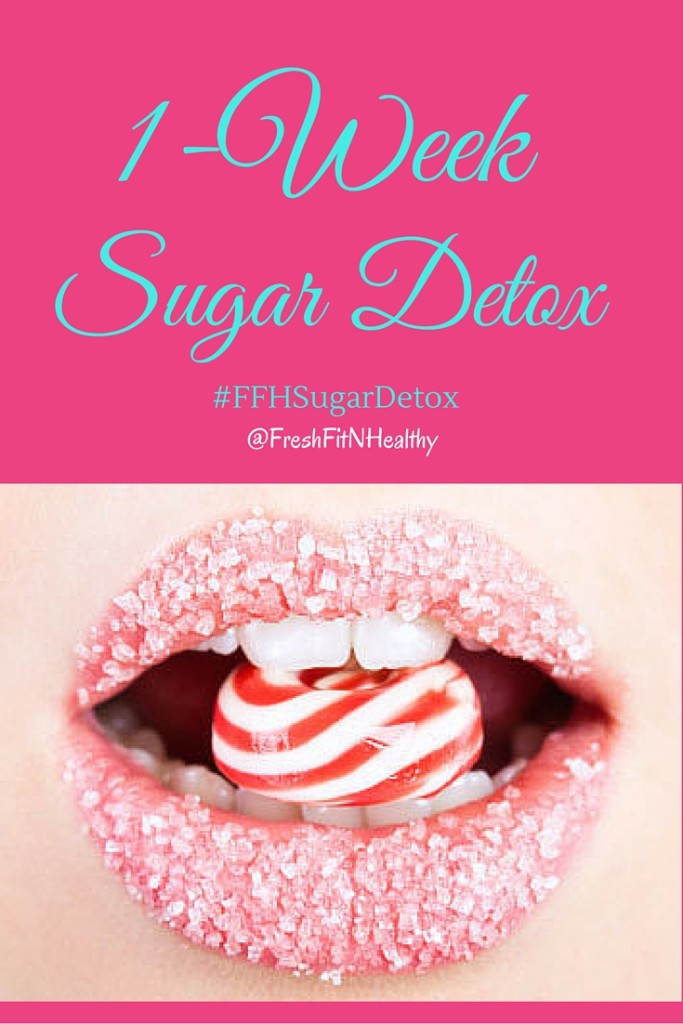 WHO IS IN?!
Have you ever done a sugar detox before?
Are you in with me from January 3rd-10th?
Tell me how you're going to limit/remove all sugar for the week!
What was that one sugar-filled food you ate a little too much of this holiday season?! (mine was See's chocolate my uncle sends us every year, ice cream, and home made cornbreads and banana breads (NOT fresh fit or healthy style)!