Family, Lights, and SWEETS galore! Here's how to curb those sweet cravings plus 3 recipes to jumpstart your holiday right!
It's that time of year again. "You mean time to curb holiday cravings SG?" Well, that too, but…
You know, that time when you're surround by so many good things that are warming to the soul.
But also that time you have SO many untypical foods and sweets around.
And as much as I'm all about never depriving yourself and allowing all foods to fit in your diet – when eating TOO much of those sugary sweets, how good do you feel? For me, I feel sluggish, unmotivated to do what I need or should do, and simply just GROSS. Which is why I shared some healthy yet SWEET and yummy snacks with a local gym the other week…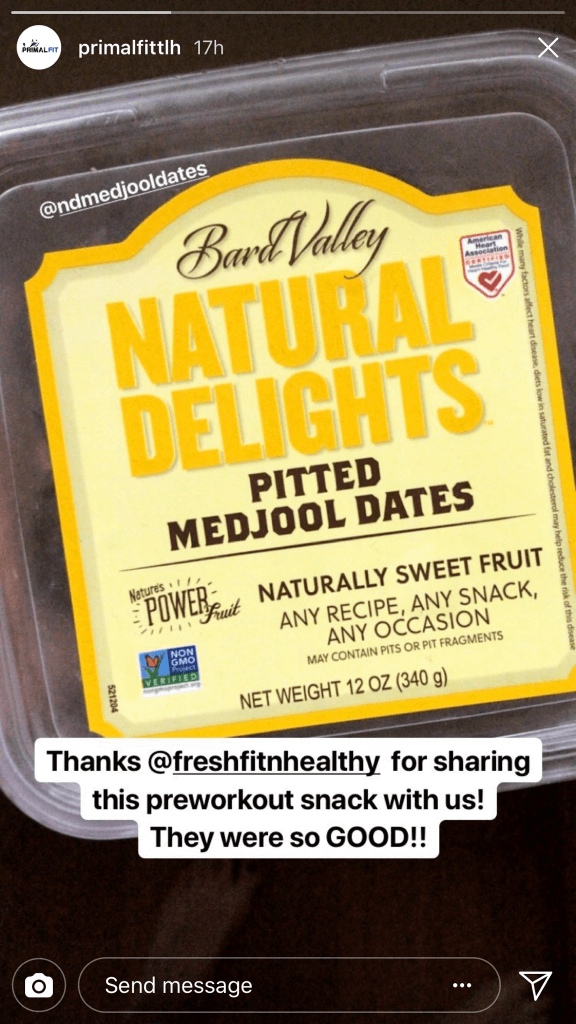 That's why it's all about balance. Note how I said curb cravings – not avoid them all together. Because I think you SHOULD have a little piece of that favorite dessert of yours.
Just not the whole buffet table of sweets. And why not throw in some NUTRITIOUS packed sweet alternatives, so that the whole group can satisfy that sweet craving through this holiday season and STILL feel energized and awesome?
So I'm excited to partner again with Natural Delights Medjool Dates as I still continue to train for the Gasparilla half marathon with them, and bring you ways (and recipes) to help curb those cravings, energize you, and prevent you from feeling sluggish or slow.
Because just like I have to keep in mind with my training, the holidays (and your health) are a marathon…not a sprint. And it's key to keep things in balance and feeling good the whole time! Here's some secrets to curbing those craving and recipes to help you along your way of implementing them 🙂

3 Secrets to Curb Holiday Cravings
Don't set "CANT HAVE"s
Instantly when you set things as "off limits", you want them more. We're human, and it's part of our human nature to want things we can't have. If you continuously tell yourself you CANT have that apple pie, you will begin constantly thinking of said pie, leading to annoying food preoccupations and sometimes, even binging on the exact food you said you couldn't have.
It's all about giving yourself permission for ALL foods, but being PICKY about which ones will actually be worth it to you. And not taking all the leftovers home in a container, as that leads to you typically mindlessly eating them for days after because "can't let them go to waste!"
Never Go Too Long Without Eating
I see a lot of people starving themselves all day long when they know they have a big holiday dinner coming up. But guess what that does? Sets you up for FAILURE before you even get to the dinner.
I put on a free online training last week on Fat Loss Secrets for the Busy Life (watch the replay here), but one of the things I see holding BUSY people back… is going too long without eating, for this very reason! It sets you up to overeat and make poor choices.
Plus, a lot of sciency hormone issues happen when you go too long without eating – I'll spare you the nerdy details I know as a dietitian, but just know that hormone imbalances happen with hunger hormones, making it almost IMPOSSIBLE not to overeat.
Bottom line: eat normal amounts throughout your day with a focus on lean proteins and vegetables leading up to a bigger meal, so you are in a better place to make good decisions.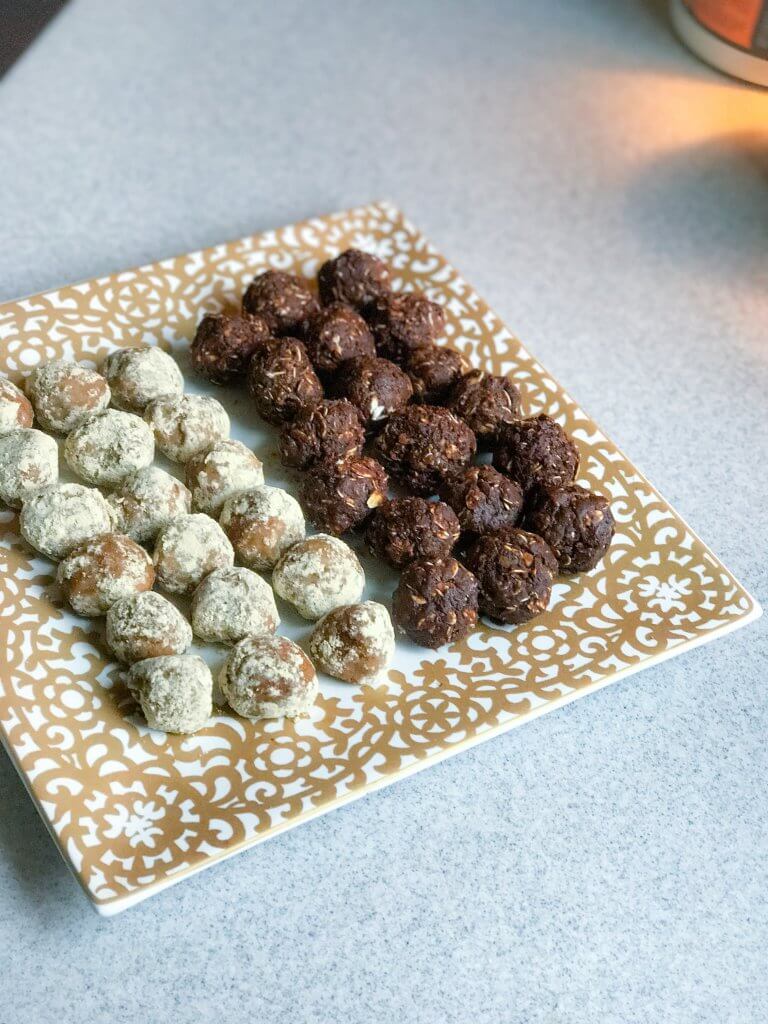 Create Healthier Alternatives to Keep Around
Here's where my healthy recipes in this post and beyond on FreshFitnHealthy will come in handy. Now like I said, sometimes you just want the REAL stuff. But when the holidays last a full week (and sometimes even weekS), it's key to make healthier alternatives to keep around for that every day sweet tooth and to simply HAVE nutritious options accessible that still taste good.
You'd be surprised, I took these recipes to a gym talk I went to, and brought these cookie dough truffles made of beans last year for my family's Christmas dinner – and in both situations, they LOVED them.
Especially these recipes below that are packed with protein, fiber, and nutrition, whether it be my Lemon Coconut Balls and Chocolate Mocha Protein Balls made with Natural Delights Medjool Dates, or my Almond Joy Bites made with almonds, coconut, and protein powder… they are ALL great options to keep in your fridge/freezer around during the holidays!
3 SWEET yet Healthy Recipes
Lemon Coconut Bites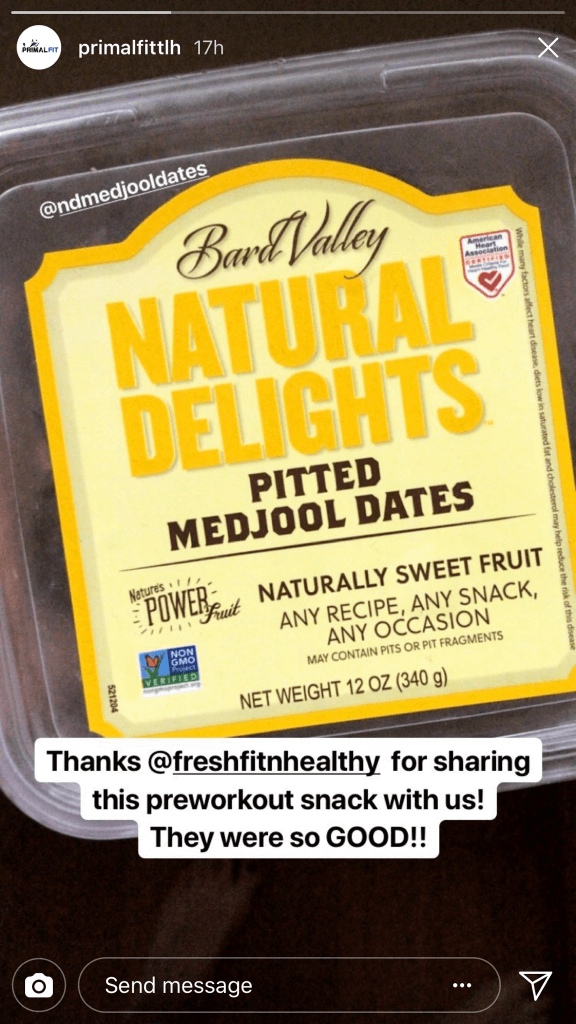 Ingredients
8 Natural Delights Medjool Dates
½ cup Applesauce
2 tbsp Nut Butter (coconut or cashew butter is best but any will do)
Juice of 1 Lemon, big
1 tsp Vanilla Extract
1 scoop Vanilla Vegan Protein Powder
½ cup Coconut Flour
Dash of Seal Salt
¼ cup + more of water or nondairy milk as needed
Unsweetened Shredded Coconut if desired
Instructions
Place dates-vanilla extract in food processor and blend until smooth.
Remove and place in bowl.
Add all other ingredients except for water/milk, stir well/mash with a fork to bring together as much as possible.
Slowly add water/milk as needed to bring together into dough consistency. Roll into balls and in coconut if desired.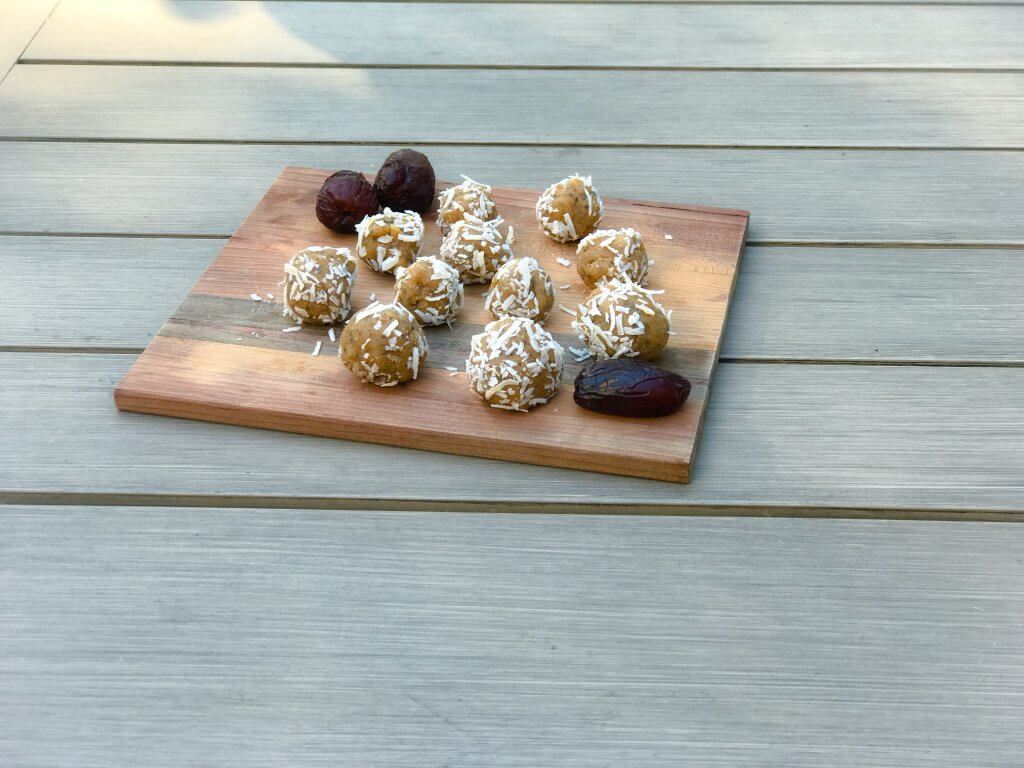 Chocolate Mocha Protein Bites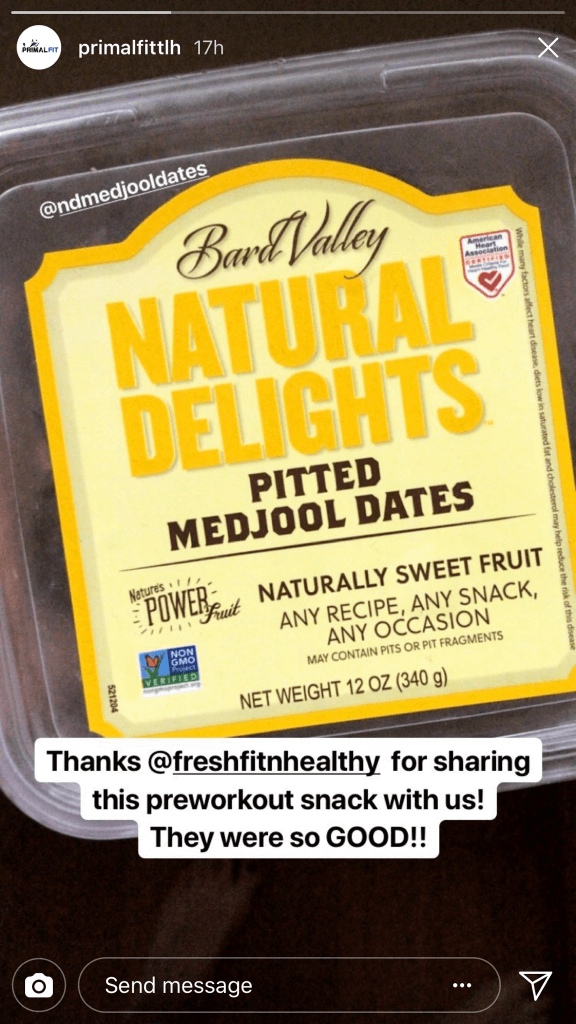 Ingredients
1 cup Oats
1.5 scoops Whey Protein Powder (I used a coffee flavored one, but you can also just add 1 tsp instant coffee to the bowl!)
1 cup pitted Natural Delights Medjool Dates
¼ cup Peanut Butter (PB)
2 tbsp Cocoa Powder
1 tbsp Honey
**Water as needed to bring together (1-4 tbsp)
**Dash of sea salt
Instructions
Soak medjool dates overnight in water if hard. Add to food processor with PB and Honey and blend until smooth. Remove and place in bowl. Add dry ingredients in bowl and stir. Slowly add water as needed only to bring the balls into a "dough" consistency. Will be slightly different depending on protein powder. If you add too much water, simply add a little extra protein powder or oats.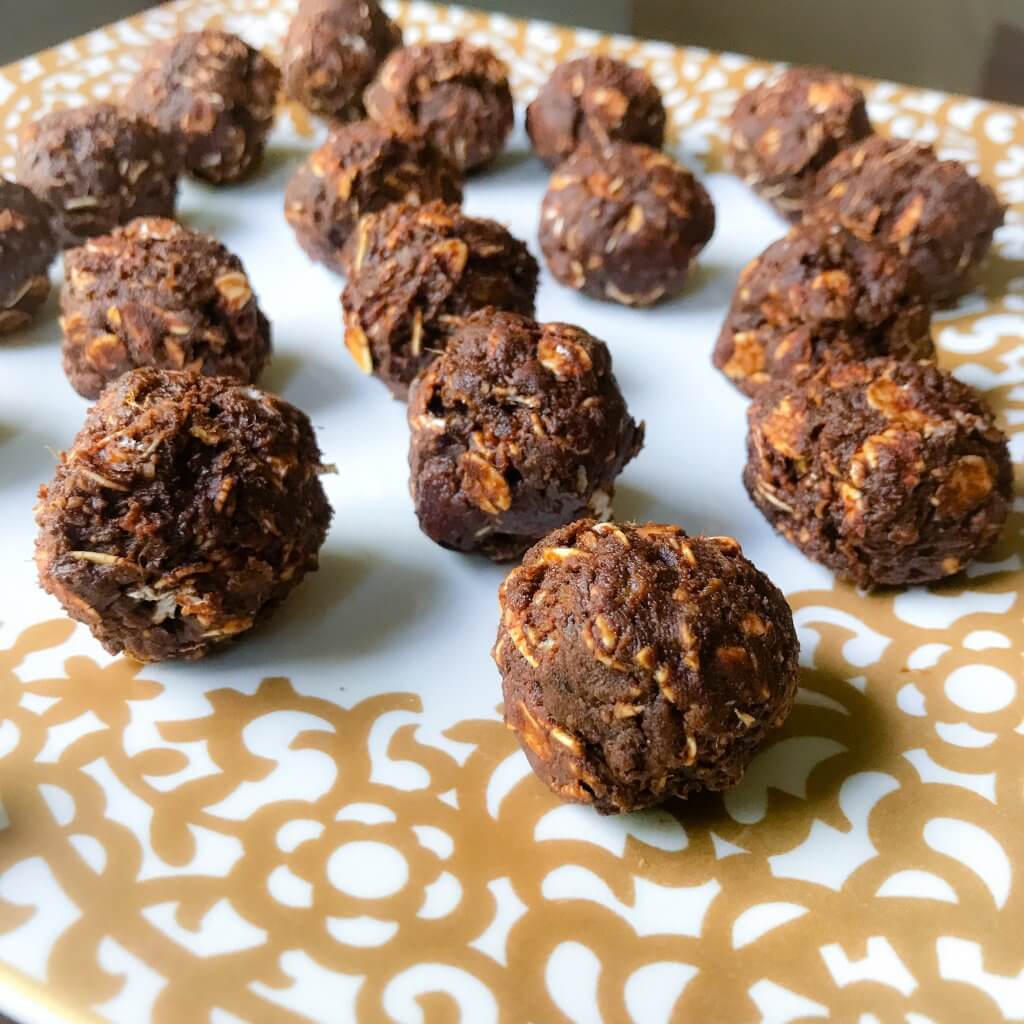 Almond Joy Bites
Check out this video on my Instagram for the recipe! And comment what is YOUR favorite food during the holidays 🙂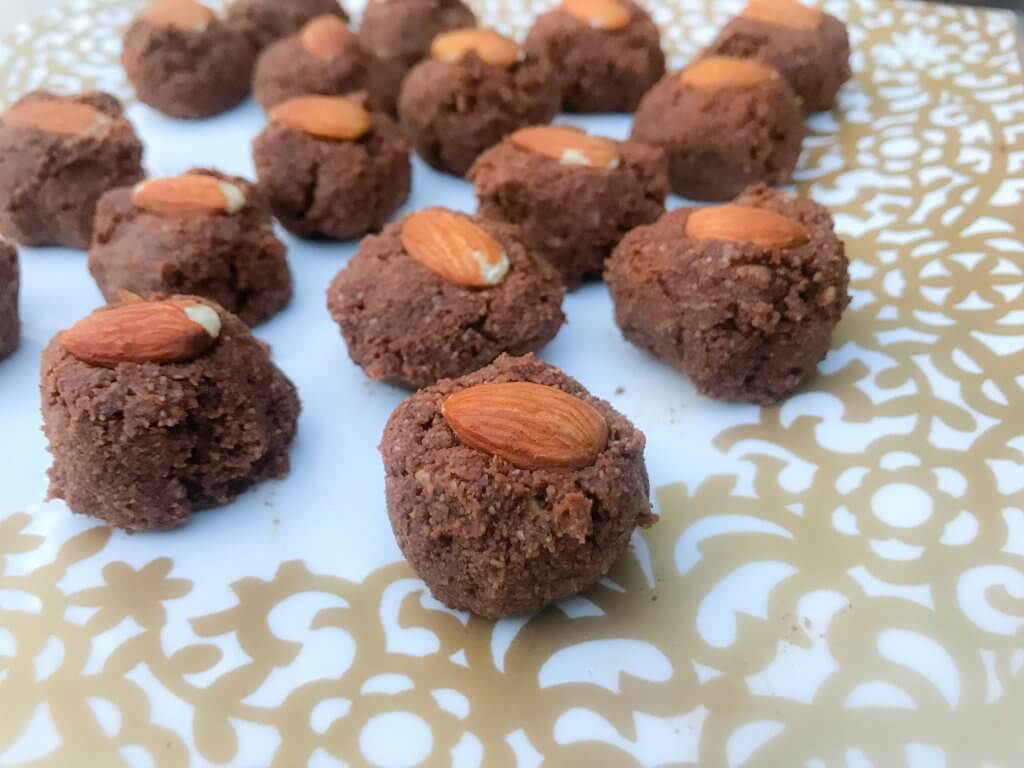 So tell ME now, what helps you stay on track and energized throughout the holiday marathon season?!
Miss my last posts with Natural Delights Medjool Dates?