Ditch the jalepenos if you're not a fan a spicy things, but this 4 ingredient healthy watermelon margarita will become your new favorite drink to make either way!
Let's just talk about the inspiration behind this heavenly healthy watermelon margarita real quick..
Healthier Cocktails and Mocktails for May Celebrations.
"Show us your healthy, colorful drink concoctions for festivities like bridal showers and graduation celebrations." This was May's Recipe Redux theme, and I was so pumped about it! And for what I knew I wanted to make, aka, this Healthy Watermelon Margarita.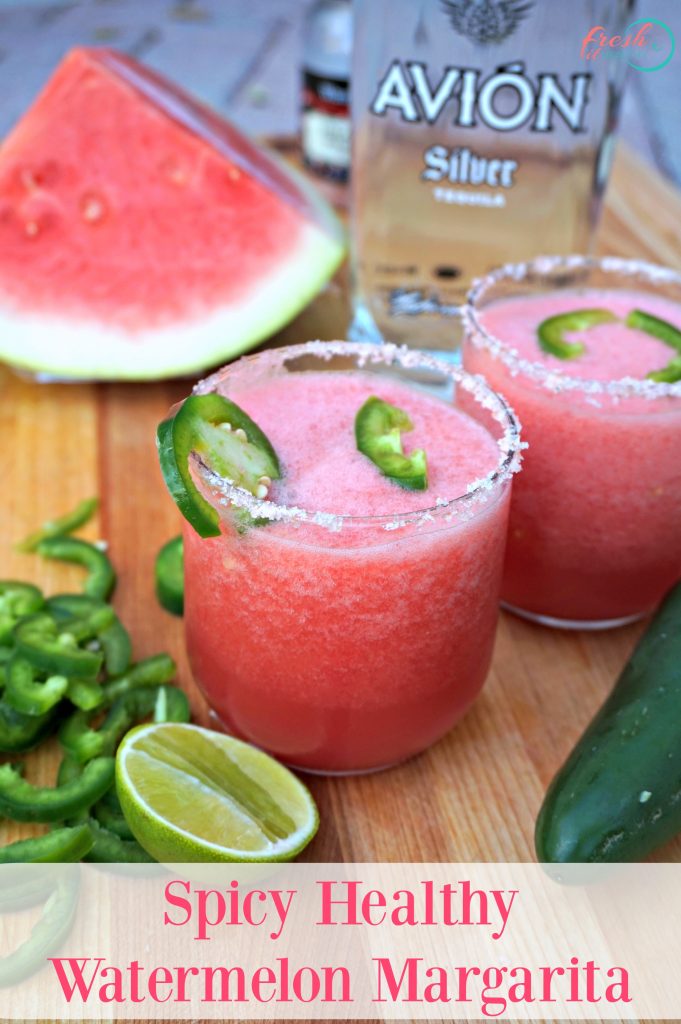 Healthy Watermelon Margarita? WHY?!
Not because I'm by any means an alcoholic, or even drink alcoholic drinks that often. But because I think they often get put on the DO NOT HAVE LIST, when trying to live a healthy life. And I'm all about that balance. Even with fun drinks like this! It's not telling yourself you CAN'T have any one food or drink, it's simply learning to have everything in right portion sizes and amounts. This Healthy Watermelon Margarita included.
But alcoholic drinks CAN be unnecessarily packed with extra sugar and calories, so I love sharing these delicious, yet healthier alternatives that help you ditch all that extra stuff. Totally unnecessary!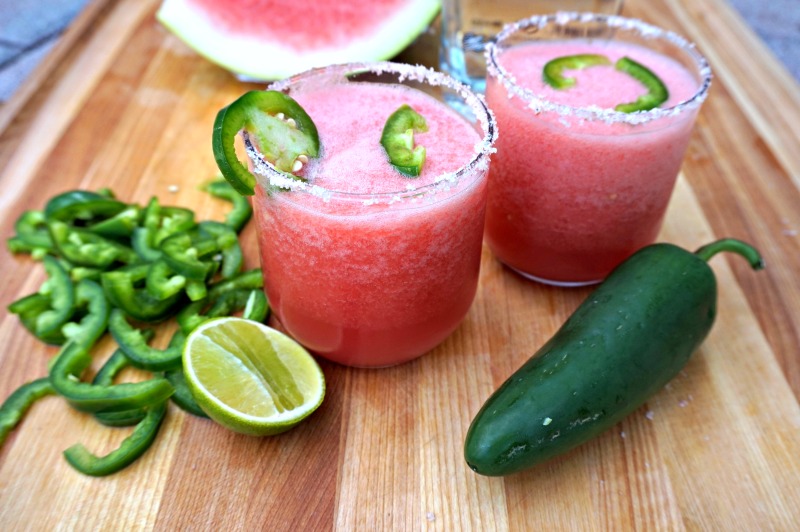 Like margaritas, they can typically be sweet enough WITHOUT the simple syrup or triple sec…but when you order one out, you better believe they are adding some kind of extra sweetness to it! Which is why I love this Healthy Watermelon Margarita option, using fresh fruit as a sweetener!
The OG drink that inspired this new healthy watermelon margarita…
I actually had a similar drink to this spicy healthy watermelon drink back on graduation day 2 years ago in Gainesville at a new restaurant. When I tasted the drink I was instantly obsessed with how they combined sweet watermelon and spicy jalepenos. Ever since I knew I wanted to make my own, without all the extra stuff I'm sure was in it! Here is the watermelon margarita I got, because of course I took a photo of it and still have it 2 years later! (typical me)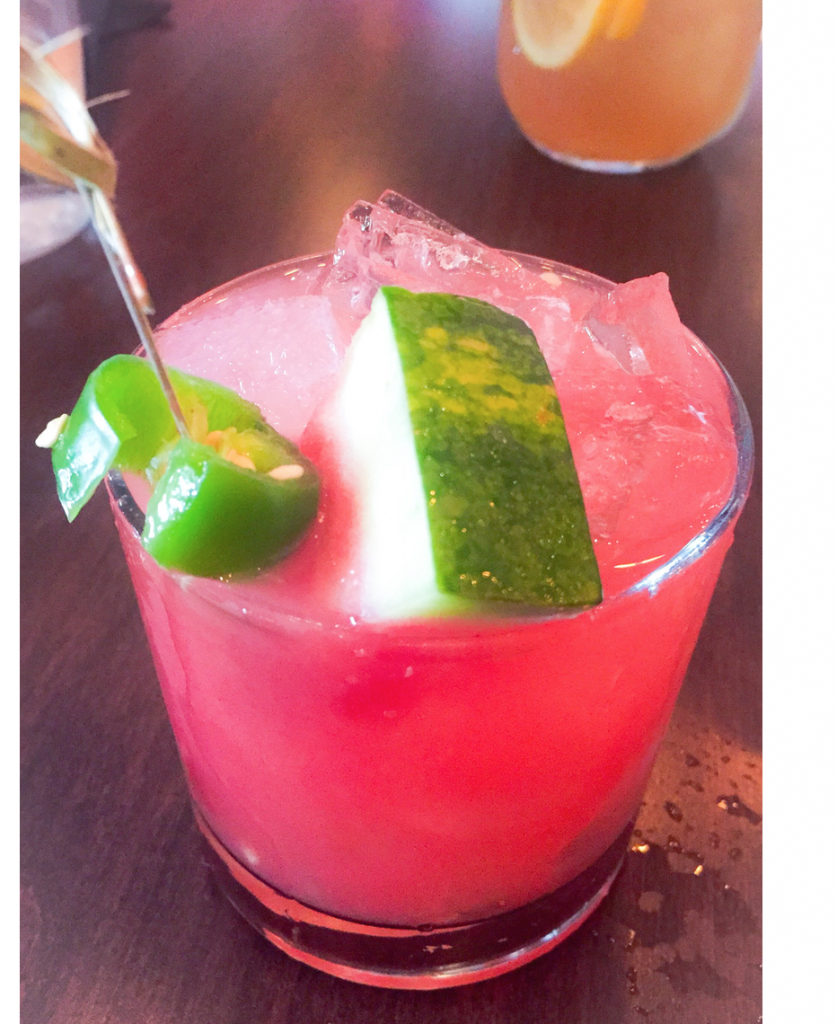 Plus, you know how much I like watermelon in my drinks after seeing this Frozen 4th of July Watermelon Drink, and this 2-ingredient Watermelon Coconut drink. But then I like to switch things up every now and a again, like with this Strawberry Pineapple Margarita, these festive Chocolate Jello Shots or Strawberry Shortcake Jello Shots (which also includes healthier moscow mules and white russian within), or this Pumpkin Martini! So are you REALLY that surprised I made another drink like this Healthy Watermelon Margarita?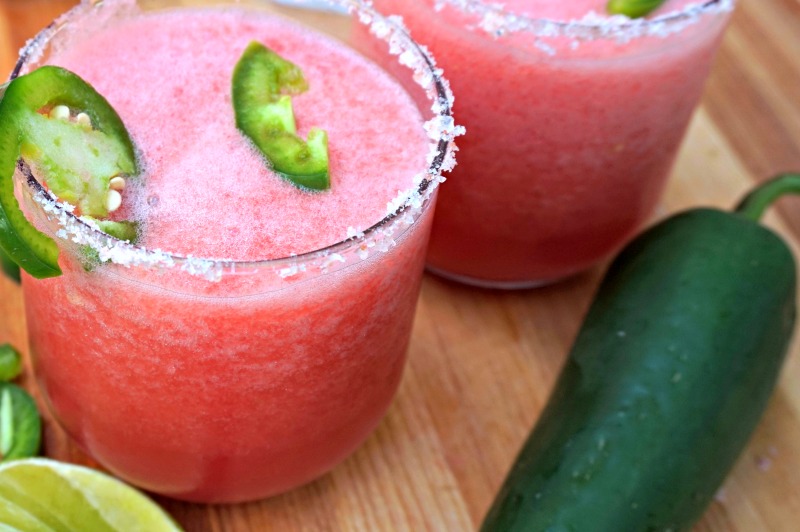 Again, I'm not an alcoholic I promise, just happen to have been blogging for years now 🙂
But before sharing this new recipe for a healthy watermelon margarita, I want to hear what is YOUR favorite go to healthy cocktail or mocktail??
Have a great day everyone!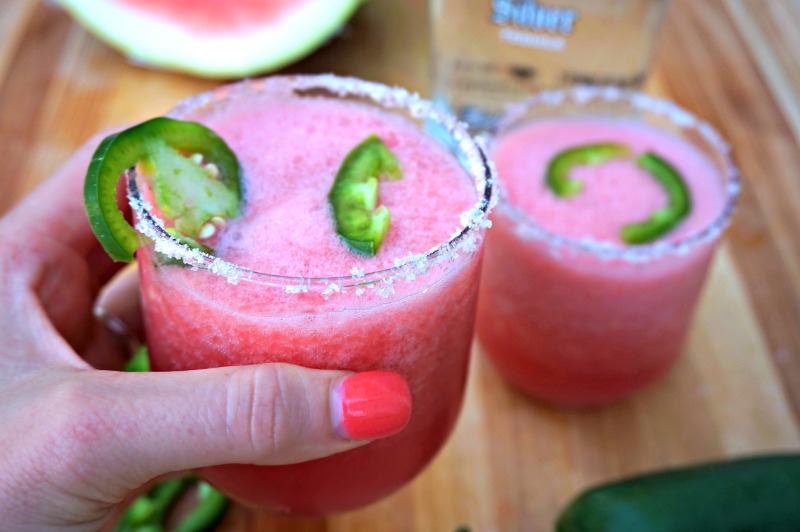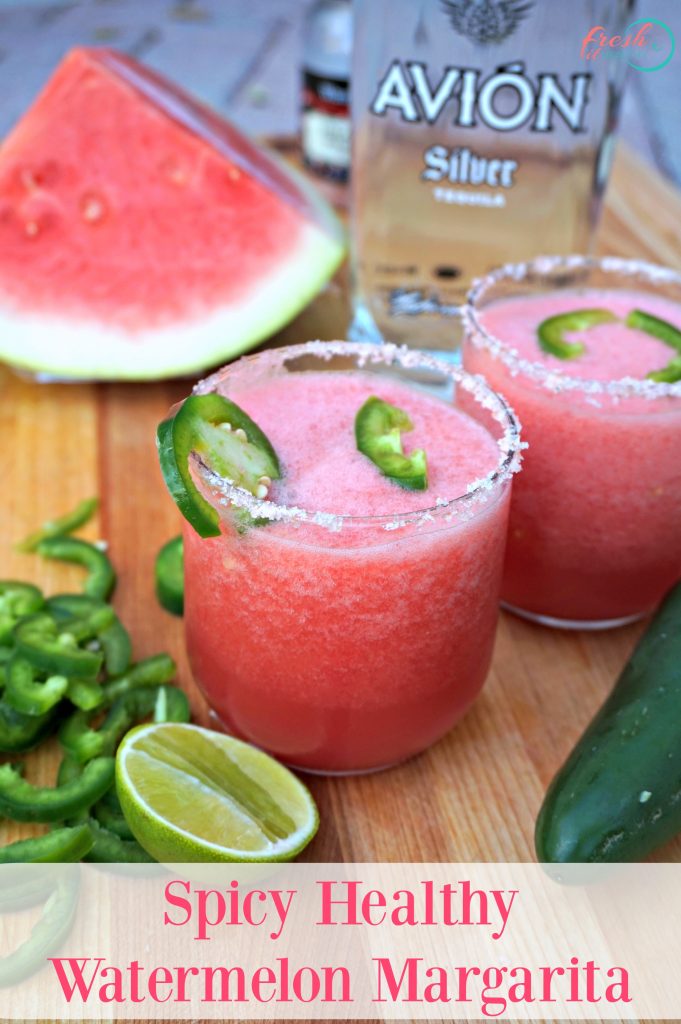 Ingredients
2 cups Fresh Watermelon Juice (about ¼ large watermelon)
¾ cups Tequila
¼ cup Lime Juice
2 Jalepenos, seeded and sliced
Optional: honey if you need extra sweetener (microwave to warm before trying to mix it in!)
Instructions
Place watermelon in a blender or food processor. Pulse until pureed.
Stir watermelon puree into a large pitcher with tequila, lime juice and sliced jalepenos.
Optional but adds flavor: allow pitcher to sit in fridge for 1 hour.
Place a small amount of salt or sugar into a saucer. Rub edge of margarita glasses with a lime wedge to moisten. Lightly dip the rim of the glass into the saucer to rim the glass; tap off excess salt or sugar.
Fill rimmed glasses with crushed ice; stir and pour margarita mixture into glasses and garnish with lime wedges to serve.