Nutritious dessert? What about a healthy dessert pizza?! Chocolate and Peanut Butter. Made simple and healthy with pita!
First I just want to say I'm so thankful for the free samples of Toufayan Pita I was given for this post, and excited that by posting this recipe I am entering a recipe contest sponsored by Toufayan Bakeries and am eligible to win prizes associated with the contest; but I was not compensated for my time.
Now who remembers those pizza lunchables. You know, the ones where the last "pizza" round was saved for the chocolate sauce and sprinkles they would give you. Looking back, I'm not sure how I found that so yummy, but oh those dessert pizzas were my favorite! All lunchables were actually… how things have changed!
Anyways, that was ONE of the inspirations of this healthier dessert pizza made from Toufayan pita bread. But what was the other? This post where I asked you all!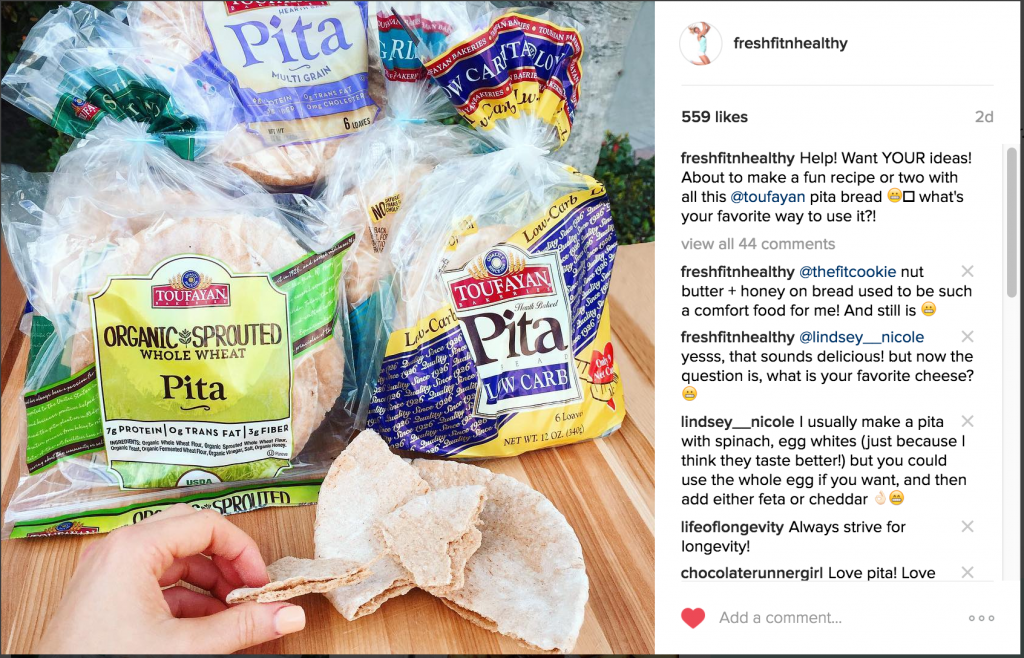 SO many good ideas were given to me, but one just stuck with me:
A dessert pizza.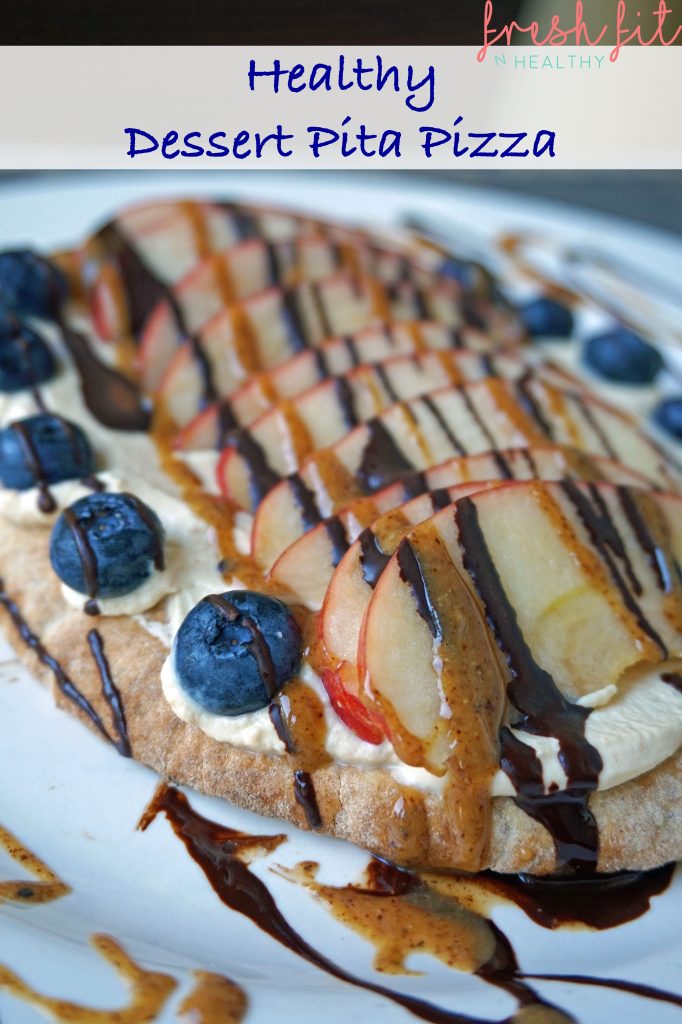 So off I went into the kitchen in my few minutes of free time I had one day before sunset, as I've been working spring training down here in Fort Myers and been working way past sunset. Hellllo natural lighting. I needed you. And I got you quickly one night thankfully.
Toufayan pita is such a great swap for any bread/bagels in meals you typically eat, OR is a great swap for chips at a normal snack! Along with making a healthy dessert pizza like I'm about to give you the recipe for, here are just a few more ways I use pita bread: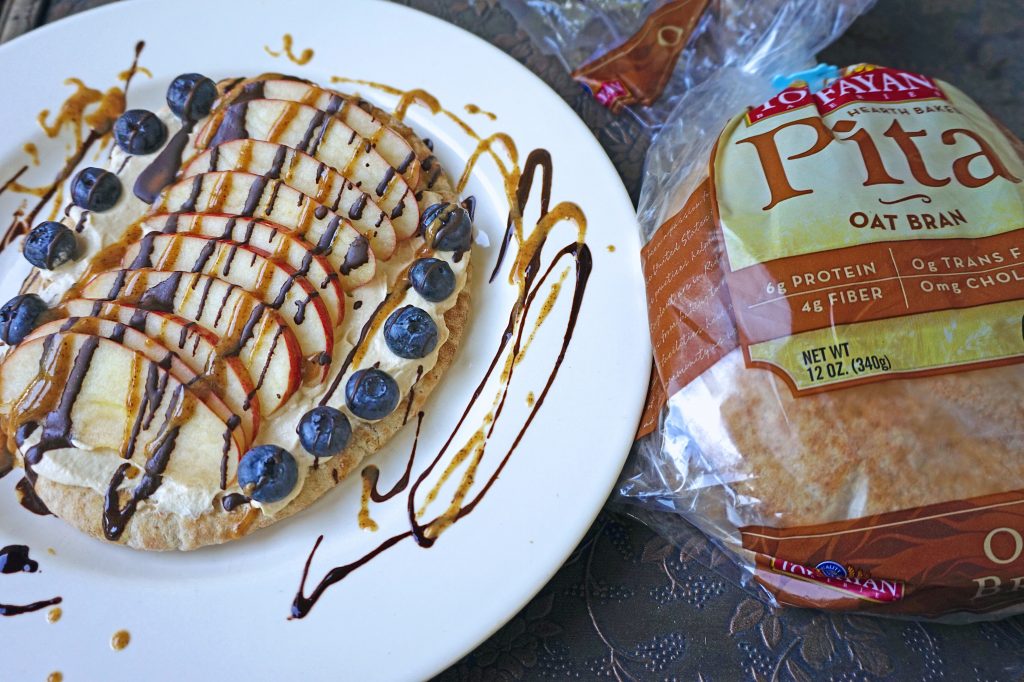 Other Ways to Eat Healthier with Toufayan Pita
Swap out bread for pita in your next sandwich creation
Make a simple pizza with pita bread as your base through this method I used here with a wrap (saves time too!)
Make your own savory pita chips by cutting pita bread, spraying with olive oil, sprinkling with seasonings, and baking! Serve with a dip like my avocado one or my buffalo chicken dip!
Make sweet pita chips by the same process, but using coconut oil and sprinkling cinnamon and sugar. Serve with my healthy yet delicious pumpkin dip, or one of my secretly healthy (bean packed) dips like my pumpkin one, my cookie dough one, my brownie batter one, or my sweet potato one!
Dip in hummus for a fiber and protein packed snack
Broil in the oven and top with cream cheese instead of using a bagel
MAKE THIS DESSERT PIZZA (instead of binging on there sweets or eating those dessert pizzas you find in lunchables :P)
So as you can see, there are SO many options. I work with so many athletes on their nutrition, and pita bread is something they tend to love for their sandwiches, and I totally recommend it!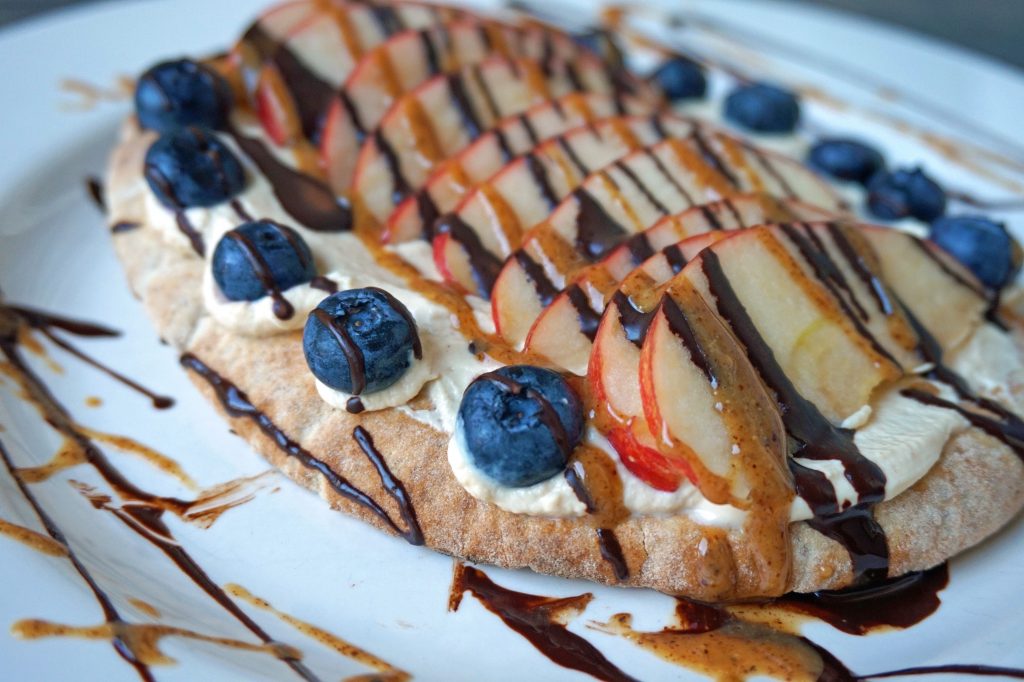 Most slices of bread are at least 80 calories each, with an upwards of 120 each (160-240 calories for your 2 slices you use for a sandwich). Depending on the line of pita you buy from Toufayan, it ranges from 100 (the low carb one) to around 150 (most others, such as the organic sprouted, whole wheat, garlic, white, multi-grain, ect). So they have a type that will fit ANYONES preferences! And have about 4-7g protein in each, which we all know how important adequate protein is, athlete or not.
But let's get back to this DELICIOUS, healthy dessert pizza. Because y'all, it was delicious. And SO simple to make. With little time and a busy schedule, I'm all about the healthy yet QUICK recipes. You feel me? This one takes UNDER 5 minutes (depending on how toasted you want your pita). That's a winning recipe to me.
Especially because when I want my dessert, I want my dessert. Not 30 minutes later. This will be ready super quick, and satisfy that sweet tooth meanwhile packing in that protein to keep you full and content. Unlike most desserts that leave you wanting more.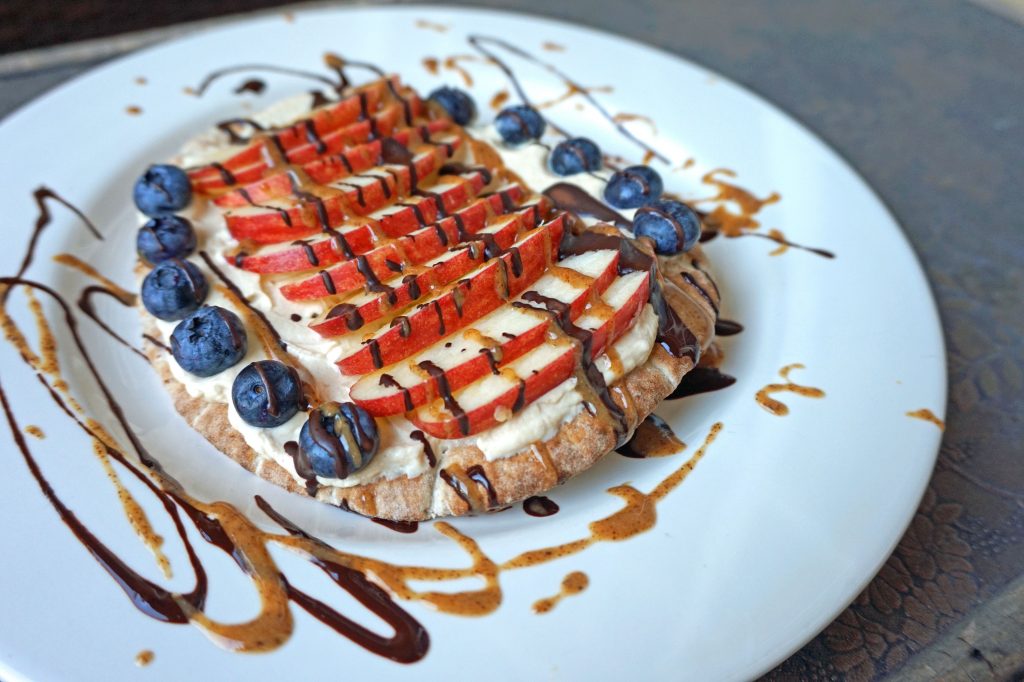 So who's in?? Who's about to go make themselves their very own, healthy dessert pizza?!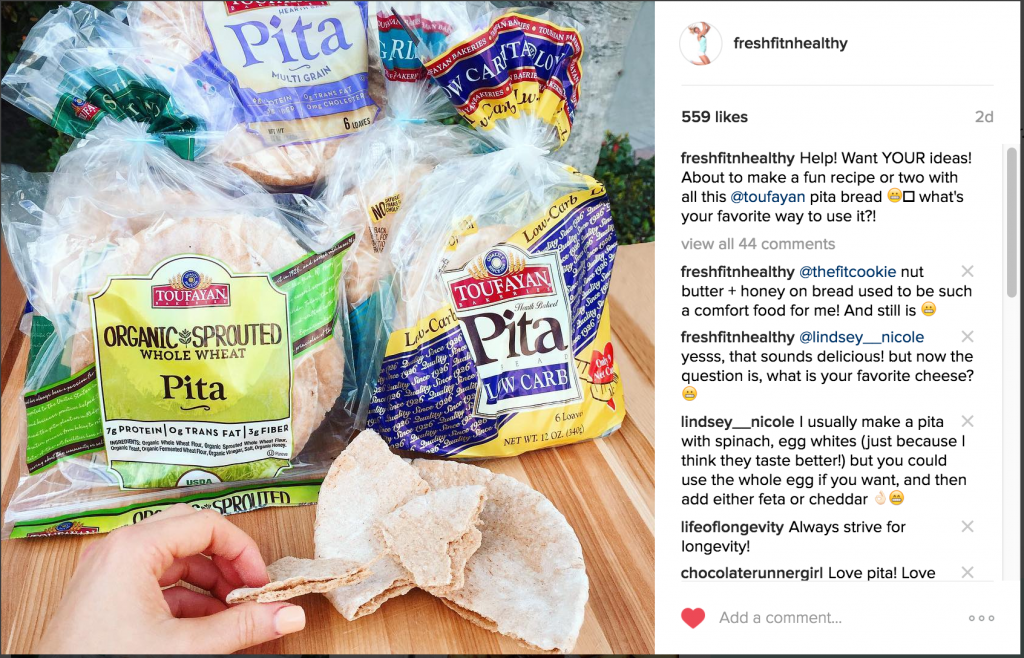 Ingredients
1 Toufayan Pita Bread (flavor desired, whole wheat was used here)
6 tbsp 2% Vanilla Greek Yogurt
2 tbsp Almond Butter
1 tbsp Honey* (only if needed to sweeten yogurt mixture)
Sliced Fruit (I used ½ a red delicious apple and ¼ cup Blueberries; banana/strawberries would be great too)
Chocolate "Magic Shell" drizzle: 2 tbsp Cocoa Powder, 2 tbsp Coconut Oil melted, 1 tbsp Honey, touch of Sea Salt and Vanilla Extract (can simply use melted chocolate chips)
Almond Butter Drizzle: Barney's Almond Butter (mix with a little warmed Coconut Oil to right consistency if needed to drizzle)
Instructions
Toast Pita Bread in toaster oven or by broiling in oven.
While pita is toasting, mix together yogurt, almond butter, and honey if desired; set aside.
Prepare both the chocolate drizzle and almond butter drizzle, as stated above (can simply use magic shell chocolate syrup and almond butter that is thin enough to drizzle, if not wanting to go through the steps of making your own.
Top toasted pita bread with yogurt mixture. Add sliced fruit on top. Drizzle with chocolate and almond butter.
Enjoy!