After blogging for over three years now, here are the 12 steps to make money blogging (sooner than later), so you can become your own boss.
I can't believe I've been blogging for over THREE years now. It's crazy. I've definitely gone through phases of being less consistent than I'd like, phases of burn out, and phases of thinking I should just give up and "get a real job"; especially as I continued completing degrees. But the passion kept growing for staying online and helping people worldwide –  and now I want to share with you the ways you can begin to make money blogging now, if you'd like to have the same worldwide influence!
As a nutrition professional, registered dietitian to be exact, with a masters in exercise physiology, many people questioned WHY I wasn't getting a "real job". Even family questioned my decision. I am working for Titus Sports Academy as a consulting dietitian to be physically present too; but once starting my blog back in 2013, I knew my influence online was my calling and greatest passion.
Now I am not one of many blogs that began making money instantaneously. Not because I wasn't capable of it, but because I truly didn't start this blog or instagram for that. It was simply a place to share my passion for healthy recipes and life journey.
As the years went on, I began making money here and there randomly, but was bad about even keeping track of it, because of that not being the focus while in school. It was nice to make money as a student and not have to get a part time job, but then when completing my masters and having the decision to get a "normal job as a sports dietitian", or trying to REALLY make something of this online business that had sort of formed in a natural way, this is what I decided.
I'm 100% NOT "there" yet, when it comes to being a super successful entrepreneur, blogger, or social media influencer. But I have some things I have already seen work for me.
Just so you know you can trust my advice (and for future reference as I continue to share how income is changing), I currently make around $2000-3000/month strictly from my blog & social media as a blogger & influencer. No 1-1 services or income as a dietitian included in that number.
That's not a stable, yearly income by any means yet, but as I said, this is my first 6 months actually trying to monetize anything – and who wouldn't want that extra ~$35,000 per year?
I'll continue to share my ways I make money both on my blog and in other ways online on this entrepreneurship tab here. But without taking up more of your time with the BACK story, here are the
12 Steps to Make Money Blogging (even as a beginner)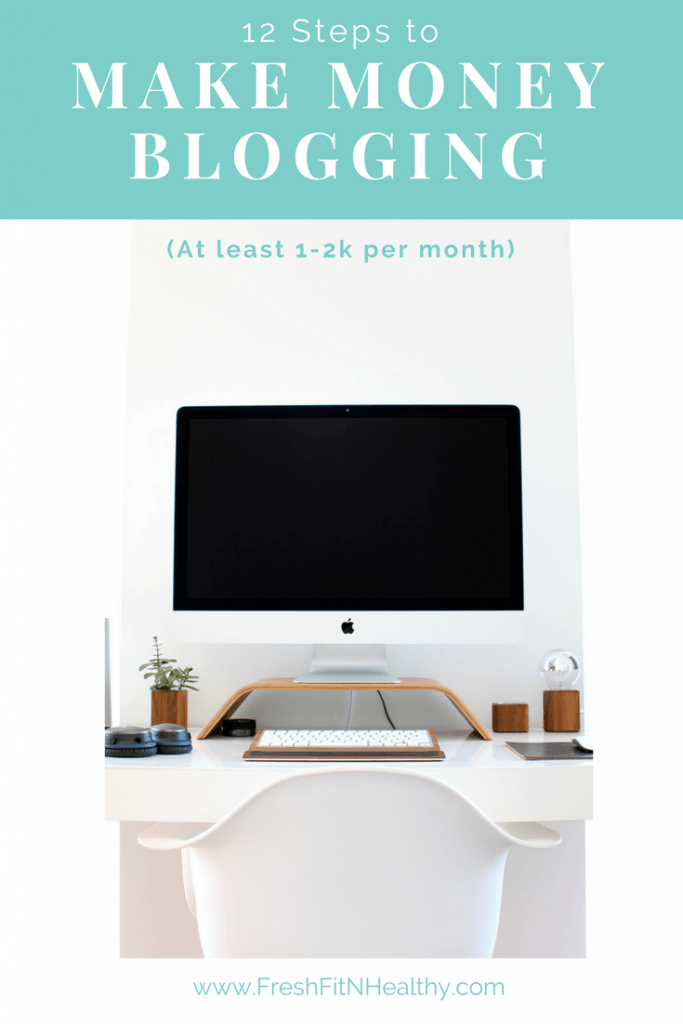 1. Create a Blog
First things first, you have to create a SPACE where you can share your knowledge and content, and have others see it. It may seem SUPER daunting to create one from scratch, but I'm telling you, it WILL be worth it.
I detail everything you need to know and the exact STEPS to building your first blog or website here. You could go with a hosted blog/website from places like weebly or wix, but if you TRULY want to make yourself look like a professional, desire to stand out from the crowd, and take this to the level that is possible to take it to – you will want to create your own blog that is self-hosted. Don't let overwhelm prevent you from doing it or going the "easier way". Follow these steps right here, to begin to make money blogging this month!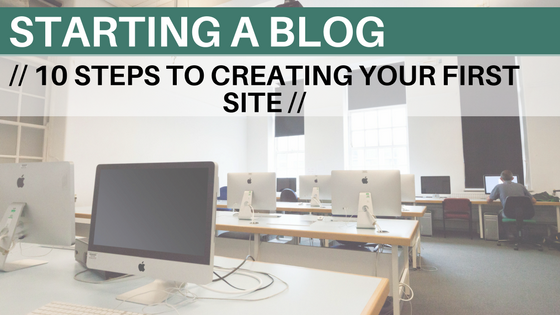 2. Build an Email List & ENGAGE
Now that you have a space to share your content, you need to build your tribe (or family as I like to call my own). Your followers ANY where else, can disappear at any time. But your email list is YOURS. I wish I would have started building my list early on in my blogging days, but I didn't because I thought having them all on instagram was good enough. Now that algorithms have changed and only about 2% of my followers see my content, I realize that isn't true.
Here are TWO options for email software, and then a MUST integration for your email solution software.
MailChimp
So, I use MailChimp now, and can I just say from someone who got overwhelmed about even thinking of email lists or creating email sequences, they made it super simple for me to do as soon as I began trying. They have tutorials for everything, and walk you through the whole process from A-Z. I avoided it for so long because of thinking there was NO way I would be able to do it or keep up with it all. Little did I know how easy it was.
Infusionsoft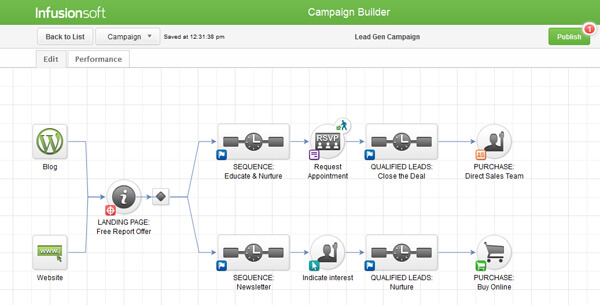 Another one to consider if wanting to prepare in advance for the big leagues and really stand apart: Infusionsoft. I couldn't bite the bullet just yet and pay for it's premium cost, but I know I will be upgrading soon! After reading all about it, I know it will be worth it, and I wish I could have just started on it from the beginning.
If you haven't heard of Infusionsoft, they're known as the industry's best sales and marketing automation platform for small business. They're different from other email solutions you may have heard of, since they only focus on small businesses. They not only help you build your email list, but their integrated sales and marketing software solution combines CRM, marketing automation, e-commerce, and payments solutions with a marketplace of apps, integrations and partners. Click here to get a no-obligation demo.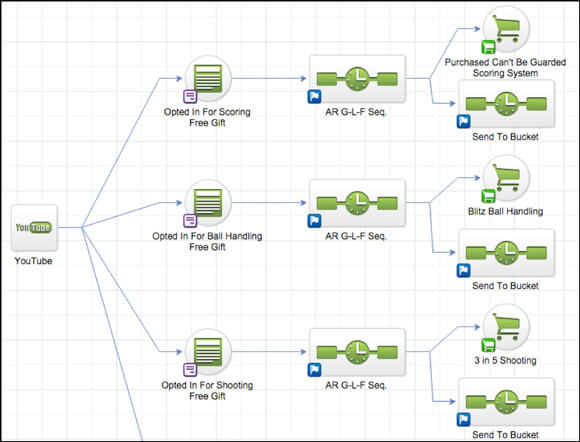 LeadPages
Leadpages is not an email software solution, but MAN, it has helped me build me email list SO much more quickly than when I wasn't paying for it. For so long, I didn't think it would make that big of a difference, so I didn't invest. When I finally did, my email list went from 300 to over 2,000 in a few months. If you've ever signed up for one of my free PDFs I was giving away like my "Meal Planner", or my Free 5 Day Challenge, or even my paid 10 Week Break Up with Dieting Course – the ONLY way I was able to make them look as professional as I did, was through LeadPages easy drag and drop templates.
I went from these terrible looking MailChimp Opt Ins for my meal planner, to my LeadPages Opt Ins that easily integrate with MailChimp. Tell me which one makes me and my brand look more professional…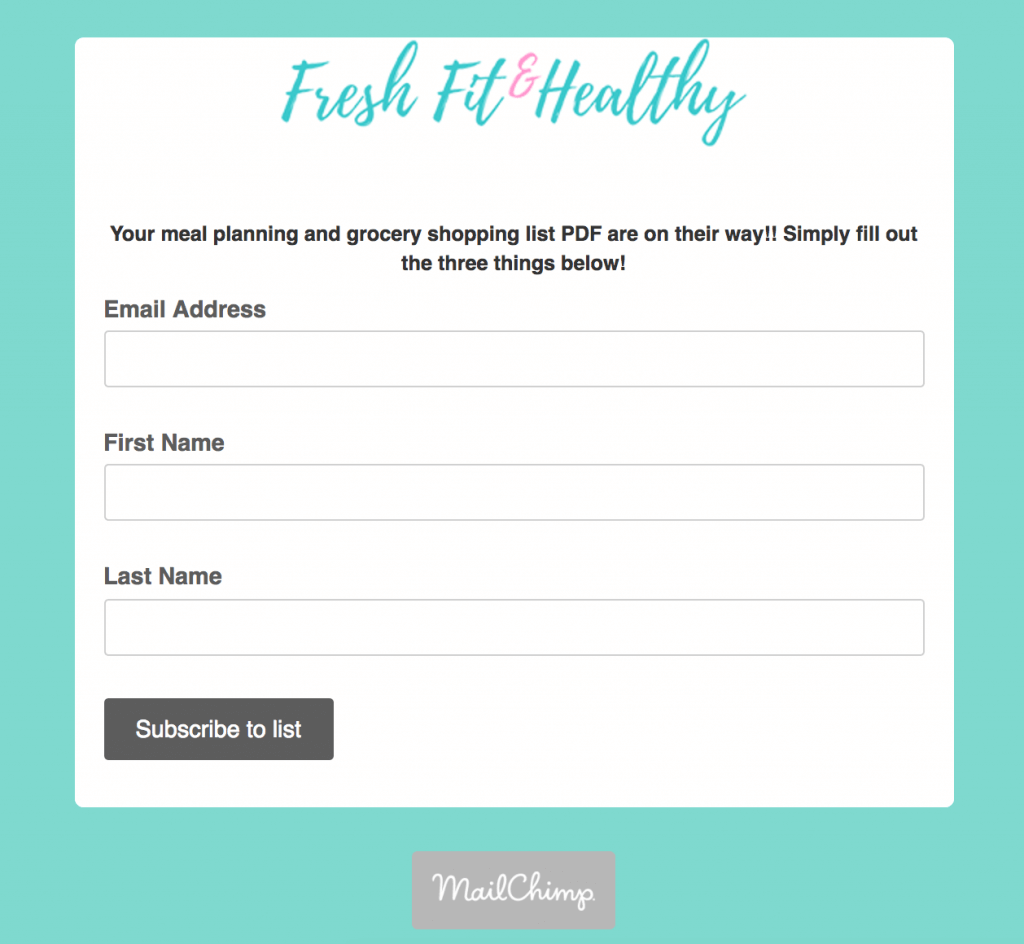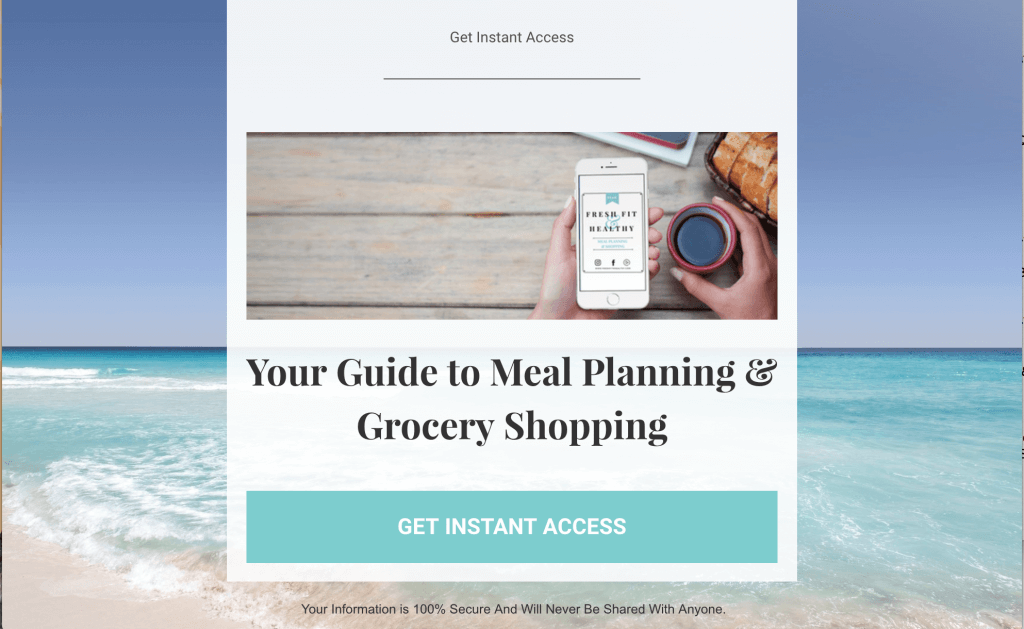 3. Provide Helpful Content on Blog
This one speaks for itself, but it truly is key to making any money from a blog. You must provide content on your blog that people are truly interested in and HELP them. With the internet being flooded nowadays, it's not enough to just provide "good reads" or interesting information. You have to provide content that HELPS them in one way or another.
Think about it, you probably don't have time to read any blog post yourself, unless you really need to know something or are looking for a solution to something. Otherwise, it may get pinned for later or something, but it rarely actually gets read.
2 Realities
You are not the only super busy person out there. Everyone is super busy, and they will only have time to read content that is truly providing useful information and helping them in some aspect of their life. No time for fluff nowadays (like I used to do way too often), get to the point and to the content that will help them.
No one cares about YOUR life. I made this mistake for way too long by thinking people did, and writing posts solely on my life updates. Now, you CAN integrate your life stories/updates with valuable information within a post! But if a blog post isn't going to help someone in some way, and it's only content is to share about your life, it probably won't do so great. I had to accept this hard reality and I want you to as well: no one cares about your personal life here (except maybe a few). Save the personal stuff for your FB friends and every once in awhile on social media, and only write blog posts that are focused on OTHERS, NOT YOU.
4. Be Social
I cannot express ENOUGH how important it is to do 3 things: Engage with those commenting on your blog and with other blogs, get on social media yourself, be social on social media!
I know social media can be super overwhelming, especially if you did't grow up with using it very much. But it is no longer a question of are you on social media or not, but a matter of how WELL you do it.
Why Use Social Media?
You can meet others where they are. Not everyone reads blogs. Nor is on instagram. And not everyone is active on facebook. But when you are on all three, and sharing GOOD content meanwhile being social with others, you will reach so many more than you would if you were just blogging.
It is basically FREE advertising for whatever services/business you are trying get the word out about. And now you can also pay for more exposure if needed.
Once growing a bigger audience, you can partner with brands and other companies.
It's FUN. Don't let overwhelm prevent you from starting. If you know the value of social media but need a jumpstart with someone who knows how to do it, consider talking with me and having me help you create a plan of action and brand board for your platforms.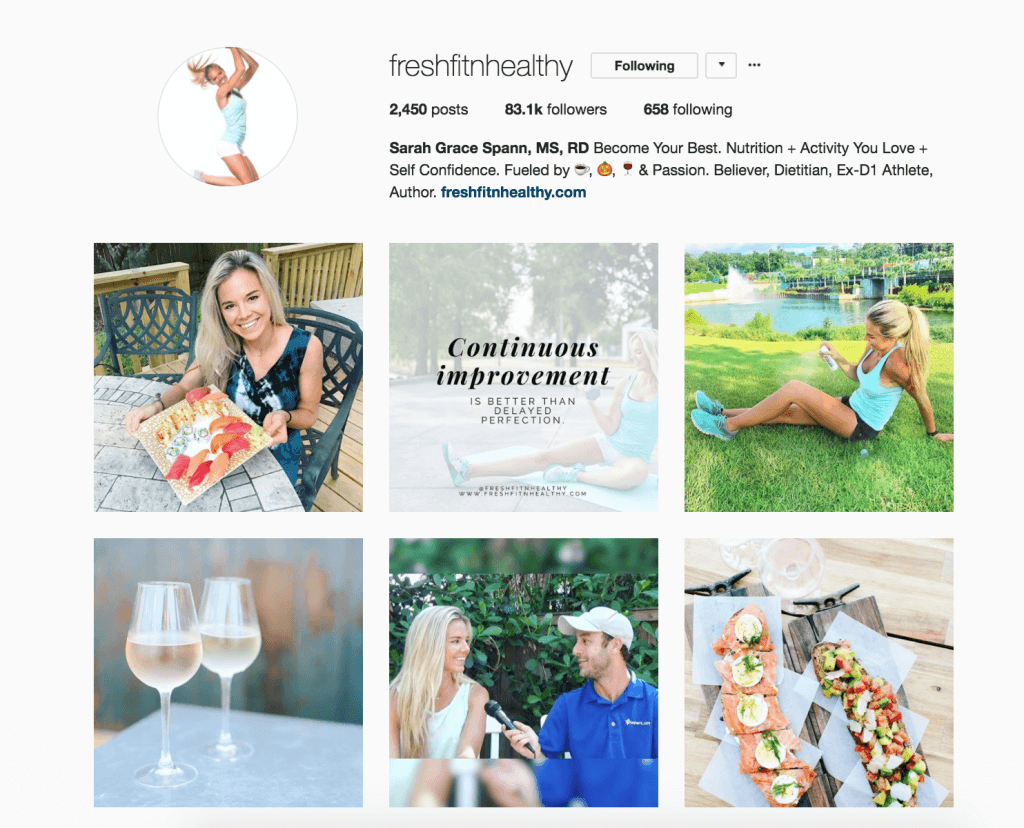 5. Create and Sell Products
It is never too soon to begin creating your own products. It can be daunting and you may feel scared to invest time in creating something you aren't sure will be successful. However, selling products of your own can really increase your income, and also create a sense of credibility among your audience.
When I first wrote my book on my own personal story overcoming an eating disorder, I was SO scared. When I created my first online course Break Up with Dieting, I was second guessing myself the whole way through. But you just have to DO IT. There will never be a perfect time or season of life when you have all the time in the world – just do it! It can even be something simple like my 30 under 30 Workout Guide I created this past summer. (this page also created by LeadPages)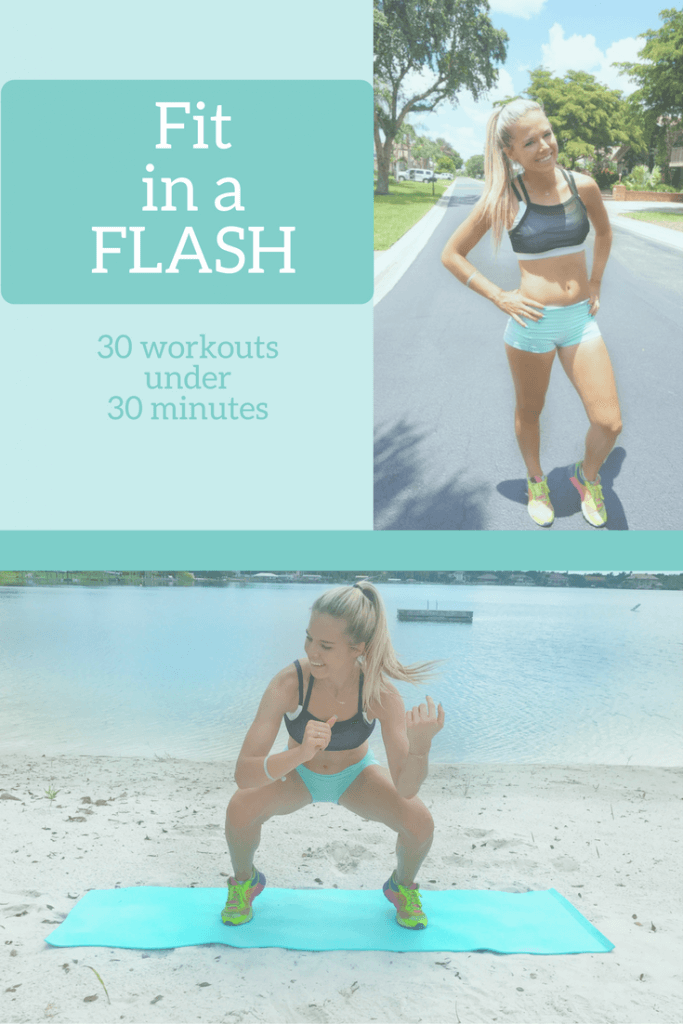 2 Reasons an Email List is Key Here
This is when having an email list is of utmost importance. For 2 reasons: You can survey your audience FIRST to see if they want it before you create it, and you can then SELL directly to them through an email sequence once creating it. Warm audience, those that feel they know you (email list), versus cold audience, that just sees your content in ads or online, are MUCH more likely to buy your products.
BOTTOM LINE:
Be a PRO at whatever you are creating and selling. Don't be scammy. Don't create products you don't truly believe in or feel you have the education to create. As a dietitian, it pains me to see so many buying fitness and nutrition plans online from people that have ZERO credentials. Please don't add to the scammy noise out there.
Pick either MailChimp (free until over 2000) or InfusionSoft, then integrate it with LeadPages so that you look very professional with all email offers and product sign up pages, and you are on your way to success!
6. Affiliate Links Could Help
If you don't want to create your own products just yet, becoming an affiliate to products you truly believe in, could be an awesome income builder (when done right). Even if you do have your own products, joining a few affiliate programs could be very helpful!
For example, I am an affiliate to BlueHost, my hosting company. If anyone uses my link to buy their hosting too, I get a small compensation for it. The same goes for my mailing system, MailChimp. The same goes for the fun, food/meal delivery system Blue Apron. A little goes along way if you create free, truly helpful content around the links and get many to trust you and want to use your links!
7. Be Careful with Ads
I played with ads for a little, but decided at least for now, I'm not going to use them. Why? Let me ask you. On a scale from 1-10, how annoyed do you get when you land on a website, only to hear a video playing that you can't find to stop, or continuous pop-ups come up that you have trouble finding the X button to?
My point exactly. The goal is to keep people ON your blog/site, not to annoy them and make them close the browser. If you DO use ads (and if I ever did in the future), I would make sure you use them strategically, so that it doesn't clutter your blog or annoy your audience.
Can Ads be Successful?
That be said, many people with readership in the 100k+/month, make thousands/month on ads with companies like AdThrive. But they only accept those with >/=100k views/month, so if you have a small following/readership, the amount of money you will make with other ads will NOT outweigh the people annoyed by them, most likely. I am not saying to not use them. Just be careful how you use them, and make sure your website stays user-friendly.
8. Partner with Brands You Trust & Use
Most importantly, DO NOT be a sell out. It is not worth it. Only partner with brands you truly love and can support with a good conscious. The number of tummy teas and weight loss product companies that contact me weekly, is crazy. Do I partner with any of them? NO. Why? Because I DON'T promote a weight-loss focused lifestyle (you can see why here). I promote natural, sustainable, long-lasting change and results. So despite it being tempting when one of those companies reach out and want to pay me over $1,000 for one post, I decline. Please stay true to YOU.
2 Different Kind of Partnerships
Long Term (examples linked)
In my opinion, these are the best to secure. You find a few companies you truly love, and form a contract for the year, where you post a certain amount of times on your blog/social media.
For 2017, I partnered long-term with 3 companies: Rockin' Refuel, which I absolutely have loved and used since being a competitive athlete – they are also sold out of the gym I now work for (another example here), Now Foods (a company I did short-term posts with for awhile and even visited their facilities before realizing how much I believe in their mission), and Natural Delight Dates (because I love cutting out the processed sugar and subbing in natural, sweet dates instead).
Each partnership looked a little different. One was a monthly Instagram post, one was a quarterly blog post, and the other was different from month to month. The sky is the limit. Talk with the company, and see what truly makes sense for the both of you!
These partnership secured over $15,000 right up front before 2017 began. Which is why I love long-term partnerships. You don't fall into working with companies just for money, because you find the few you truly believe in, and already have some money secured for the year.
Short Term/1 Time Post (examples linked)
These can be fun, and can make sense for companies and yourself when you don't think more than 1-3 posts would be necessary for either party to benefit from.
I've worked with many different companies throughout 2017 and before like this, including ones like: Adidas, Reebok, Target, Silk, Burts Bee Protein with my Overnight Oats, Dannon with this video, Zing Stevia with this video, Think Thin Bars, Pure Protein Vegan Powder, Teavana with my Matcha Tea post, Glad Trash Bags, Biofreeze, Champion Sports Bra, Quest Nutrition, and so many more!
It can take on so many forms – instagram posts, blog posts, youtube video, all of them together, ect!
The most important thing to remember: BE AUTHENTIC, be genuine, and only partner with companies you use yourself/believe in and trust!
9. Sell Services
Selling services online has become so much easier nowadays, when we have free ways to market it – blog/social media. Some examples are Freelancing, Design, Copywriting, Editing, and Trainings. You can add yourself for freelance work on Fiverr or UpWork to start getting jobs now!
10. Sell Yourself: Coaching & Speaking
The thing that has the highest potential for being bought at a high price: YOU. Once you establish yourself as an expert in an area, people are willing to pay the high price to work directly with you. Sure, you can create courses where there is little interaction with you; but 1-1 coaching can be priced at a premium.
Speaking engagements are another great way to make money. Again, once you establish yourself as an expert in ANY area, people will pay to hear you speak on it! For me, it could be coaches wanting me to speak to their teams, companies wanting me to talk to their employees on nutrition/health, businesses wanting me to speak on social media, other dietitian associations wanting me to speak on social media or how I've grown a business online, ect. The sky is the limit!
You can begin charging anywhere from $500-$1000 starting out (once an expert on something), and it can skyrocket from there once really getting your name out there.
11. Host Online (or Live) Events
Another way to make money blogging in a round about way: hosting LIVE trainings. Also known as webinars (or automated but those aren't as thrilling and usually come after mastering live ones), they have not only been proven to be an extremely effective sales technique for a specific product, but also a great way to host live training on specific topics.
You can either do free webinars where they just have to enter their email to sign up (aka, LIST BUILDER), and sell a product at the end; or you can have them pay a small fee to watch the training you prepared for them.
You could also sell a "course" in advanced on how to do something, and package it in the sense that they get "1 weekly live training for the 10 week period" or something along those lines. Then you simply prepare for each week's training before hand and give it to the paying clients live each week!
Webinar Software I Use
I use WebinarJam to host webinars. And I can say my very first live training about a month ago that I did to launch my online course, went SUPER smoothly technology-wise and I had zero issues. Which I have heard horror stories of when hosting webinars so that was a huge sigh of relief. Plus, it is the least expensive webinar platform. And I increased my email list by hundreds.
You can also pre-record webinars if you don't want to do them live, and automate them through software like EverWebinar. But let's be honest, the thrill of going LIVE in front of a ton of people worldwide is so much more fun!
Basically, webinars are AWESOME and can offer people your amazing content/training worldwide. Try out WebinarJam for only $1 for the first month!
12. ***BE GENUINE & HELPFUL***
I already have said this, but I CAN NOT REITERATE ENOUGH. Don't start a blog or try to make a business online just because you want to make money. Have a big WHY behind what you do, create a presence online to be impactful and offer authentic, incredibly helpful, life-changing content. (or at least super yummy recipes that basically change your life).
If you are truly helping people, working your very hardest, and following your passion and calling in life, you will ALWAYS be successful. Stay grounded and people-focused. You will make money blogging naturally when you do!
So there are my 12 steps and ways you can begin to make money blogging NOW. Which one will you begin implementing today?
xo,
Sarah Grace