Interested in becoming a private practicing dietitian or becoming a nutrition entrepreneur as a health professional? Tips, Lessons, Failures, and Successes –  I'm sharing my own entrepreneurial journey there!
I've always had the entrepreneurial mindset, but now it's go time. I'm done with my dietetic internship and masters program in sports nutrition, and it's time to actually take the step out of my comfort zone and leave the safe zone, and follow my dreams in becoming a nutrition entrepreneur! Scary stuff.
Want to follow along this nutrition entrepreneur journey? Or are interested in doing the same in opening your own private practice or being an entrepreneur in another field? Would love to have you for the ride!
I'll be weekly sharing both blog posts and videos on my journey. Blog posts for the nitty gritty real in depth stuff…and videos for the entrepreneurial inspiration, life lessons stuff — failures and all. Total transparency here! Join me for both if you'd like!
Let's get started.
As I rounded up my internship, I went through a period of SEVERE STRESS. I mean, now I know what people mean by mid-life crisis. As some of you may know, I've had this little blog and this little instagram since a college undergrad, and was making SOME money (but very little, like 500-1k/mo)… so when finishing my program I was faced with a BIG decision. Either I keep it at what it was, a side source of income for fun, or I truly try to make it into my career and see where I could take it when dedicating my full time to it and being a licensed registered dietitian now.
Clearly you know which I chose since I'm writing this blog series and making this video series.. nutrition entrepreneur it was!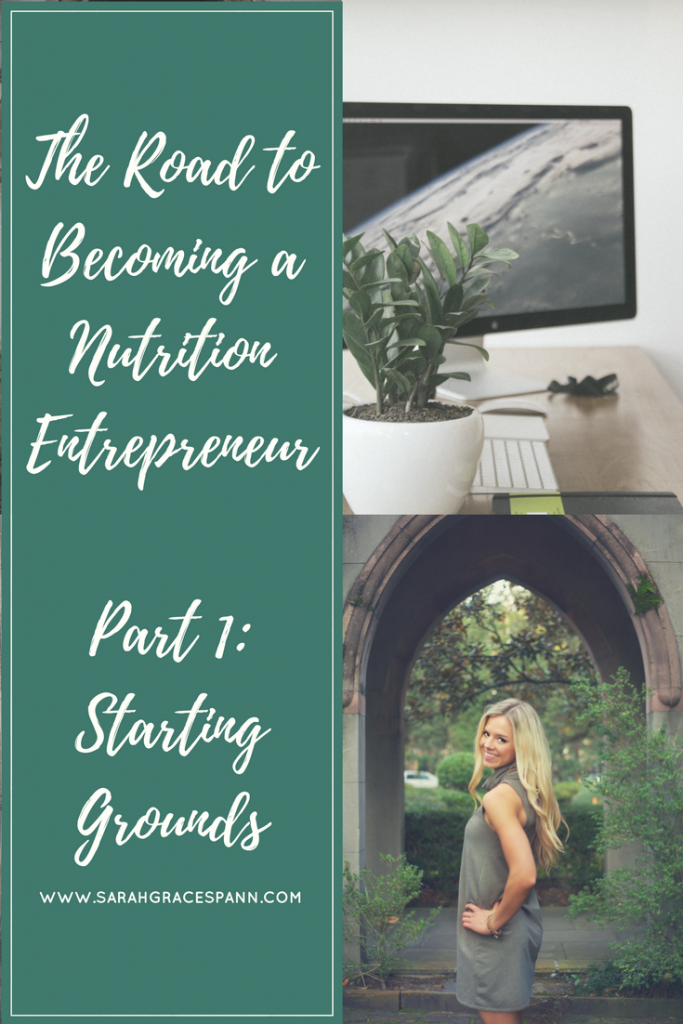 But the stress was REAL. Like this video mentioned as I talked about drowning out the voices, even family members were telling me I was dumb and that I needed to "settle down and get a full time job". Settle down? Let me tell you, I was that weirdo and 1 friend in the group you RARELY saw out. I was always choosing to stay in to work on something versus going out with friends. Reason why I knew this journey was right for me though! So when I was told to "settle down", I had to take a DEEP BREATH, and let it go. I had to drown out the noise. And I had to follow my gut and where my heart was leading.
When I did that, then it was RESEARCH time. Time to research all I needed to know, and continue LEARNING every single day from this point on. From both entrepreneurs in other fields and nutrition entrepreneurs specifically. Some business and entrepreneur sources I learned from daily:
The biggest takeaways I got from those last websites that I know I need to do ASAP/ steps for YOU to start with as a nutrition entrepreneur:
Get professional liability insurance through proliability (general liability too if you'll be renting out your own space, but I'll actually be working on a consulting basis at a training facility, along with on my own via skype).
Going off that, figure out how you will consult. Do you need to rent a space? As I said above, I'll be working out of a gym free of charge (so awesome, right?!). And then also on skype worldwide!
Think about registering as an LLC (or if I want to hold off for now)
Have a website and set prices (whew, got that one done already! www.SarahGraceSpann.com )

I spent HOURS researching others' prices, and went somewhere on the lower middle end. I also decided on offering both packages, AND simply consults and follow ups. You can choose to do one of them or both! I will most likely tweak this all as I see fit!

Social Media: Key for marketing whatever you are offering, and simply connecting with your audience!

I'm heading to Phoenix actually this week and speaking to many health professionals on the importance of social media and on all the different platforms!
Thankfully, I already am on almost every single platform, as I've been in the ~social world~ since 2013 with my blog, but choose a couple platforms to start with, and then expand from there! Don't let the overwhelm of all of them, keep you out of it. My personal favorites are youtube and instagram, with pinterest being a good driving tool to your content!

Create a financial spreadsheet

This one stresses me out because I know NOTHING about business currently, but I do know from reading how important it is to keep track of expenses and income…so this is high on my priority list to do — to make an official, neat and orderly spreadsheet..and stop just making random excel sheets/notes as I think of it.

Insurance Decision: Will you take people's insurance? as a licensed dietitian, we can. But I'm choosing not to right now…too much to do with all of that, and growing up seeing my mom have to deal with that all (self employed nurse anesthetist), that's the last thing I want to deal with constantly.
Paperwork and Handouts

Thankfully I've made ALOT of handouts in the past year as I've worked with the training facility I mentioned above, and needed to figure that all out (just as their nutritionist and not RD until now!)
Handouts I've already made in PDF form: Initial Client Questionnaire, 3 Day Food Record, Body Comp Sheet, and BiWeekly Update Form.
As a blogger I've also made PDFs throughout the years that I'll use: Grocery List Template, Meal Planning Guide and Template, Handouts on Nutrients (such as high protein foods, high fiber foods, ect), Pre Workout Fueling, Post Workout Fueling, Anti-Inflammatory Foods, and so many more!

Things in question still currently: do I need to register my business, get an EIN right now, or open up a separate business checking account. Still deciding on those!
WHEW.
Okay so that's enough for now on my road to becoming a nutrition entrepreneur to-do list!
Next week I go out west for THREE WEEKS. But it's for business and fun. Phoenix first to speak and attend CPSDA's annual conference (collegiate and professional sports dietitian association), then CA to see my sister and some good friends I've met through social media (s/o GiGi and Katie!). And lastly to Denver to attend ACSM's annual conference. Which I must add, I'm staying in an airbnb for the FIRST TIME. Wish that experience well!
Looking forward:
One thing I've realized is that you MUST have multiple sources of income to be successful, being a dietitian will just be ONE for me.
Current Sources of Income (as a hobby of blogger/influencer):
Long Term Partnerships with Brands: 2 partnerships with brands I truly love and use – 12,000 for 2017.
1 Time Campaigns with companies and brands: typically about 1,000-1,500/month (again, didn't take on very many as a full time student and intern, so hopefully this can go up too!)

ALWAYS make sure that you truly use and love the brands you're supporting. NEVER lose trust with your audience or look like a sell out. I deny brands ALL the time. It's not worth it.

Coaching Services: ~$500/month (now that I'll be an RD, this should hopefully go up as it won't just be super part time!)
Affiliate Links: ~$100/mo
My Book: ranges!
Projects on the Horizon (/future possible sources of income as a nutrition entrepreneur):
Serving as the dietitian of Titus Sports Academy: this will be a whole entrepreneurial journey in itself as they have never had an RD, but want me to create a nutrition presence and program! Exciting!
Continue partnering long-term with a few brands (2017 I am partnered with Rockin Refuel and NowFoods)
Consistent content on youtube/video interviews and turn videos into audio for podcast (income would come down the road when I can get sponsors)

Hoping my trip to LA I can get some good video interviews with others 🙂

Create an Online Course
Affiliate Links: such as Lead Pages, bluehost (whole post on creating a website/blog here), VitaFive gummy vitamins, Blue Apron meal delivery service, and Amazon. Will definitely be having more as I begin using more software for this journey!
I'd love to get some speaking gigs in the future, as I love public speaking weirdly!
More books ( already published one!)
Stay tuned to the next update!
^ blog IG

^personal IG
Some other posts that may be relevant if you're into this entrepreneur stuff: