These gluten-free, nutritious, no bake peanut butter energy bites will keep you fueled, whether busy at work or before and after workouts!
You all loved my no bake peanut butter protein balls so much that I shared such a long time ago, that I thought it was time to create something similar! Except this time, VERY minimal ingredients, SUPER easy to make yourself, and the protein powder is optional for those that rather not add any! Let me introduce to you my no bake peanut butter energy bites.
I've made some more unique peanut butter protein recipes out there, like the PB&J Protein Bites, or the high protein peanut butter granola recipe from awhile back, or the peanut butter high protein french toast!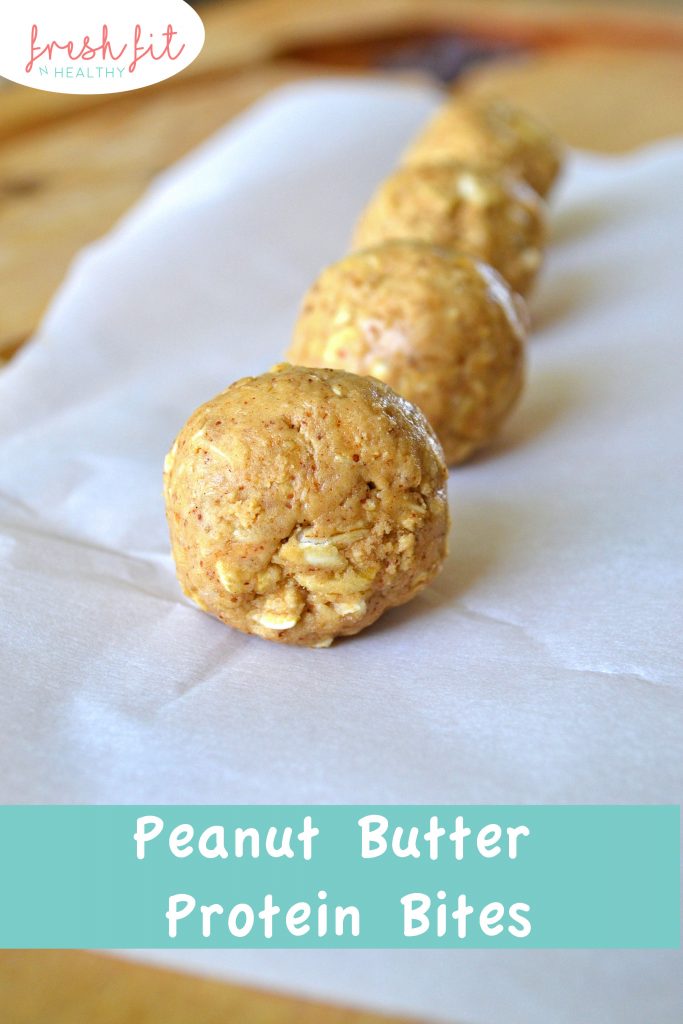 So this one is more ENERGY focused. Because I feel like many out there FEAR CARBS (or fat!), mostly due to what I mentioned in this post on the one thing holding you back from reaching your goals.
But as you may have seen in my post on what to eat before and after workouts, CARBS ARE YOUR FRIENDS, in BOTH scenarios!
This is why this recipe I'm sharing with you today is perfect to keep on hand or in your fridge at all times.
Whether you're needing that little pick-me-up throughout your day, or that little something extra before a workout, or that little something directly after working out because it will be an hour before eating your next meal…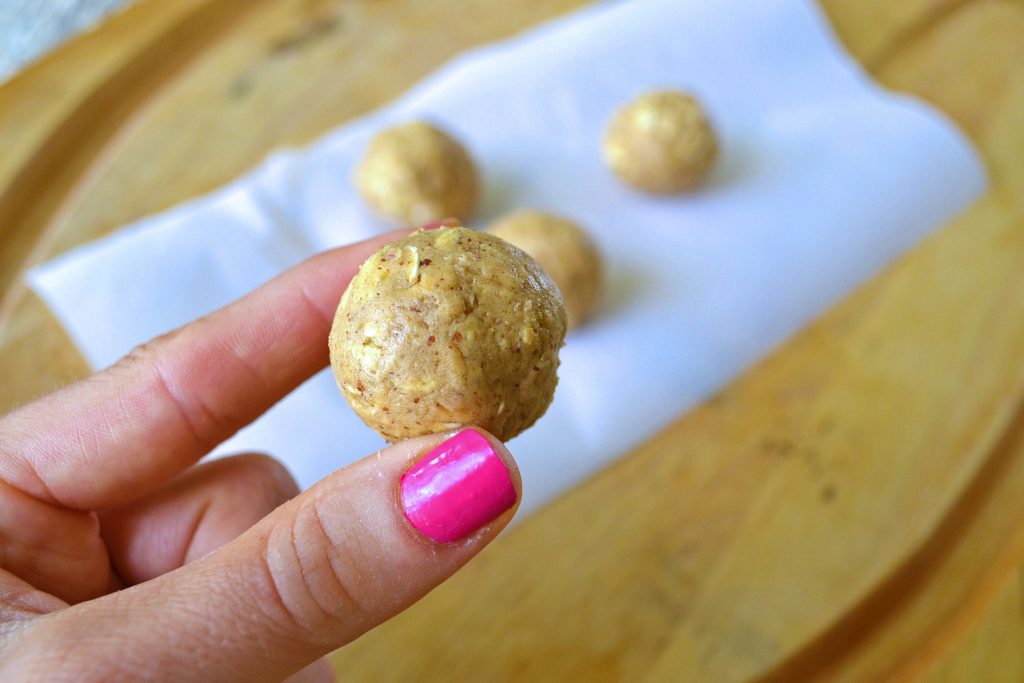 These no bake peanut butter energy bites are PERFECT!
Why?
Oats, as most of you may know, are a great complex carbohydrate and source of energy to fuel your body throughout your day. That's why I love making things like my overnight cookie dough oats for breakfast! Because who doesn't like cookie dough for breakfast?!
Peanut Butter, is an awesome source of healthy fats and also adds some quality protein too! Another reason why I love making my peanut butter chocolate shake over and over again! Rule of thumb: make sure it's REAL natural peanut butter. Like I talked about in this video!
Honey, is anti-microbial, anti-inflammatory, and simply delicious! It's a quick digesting, natural sweetener that allows you to add a little extra sweetness without experiencing a sugar overload or putting other (very processed) forms of sugar in that valuable body of yours!

(You may remember me sharing some honey recipes and benefits over HERE — still can't get over the funny photo they made for it!) 

Protein Powder, as I've mentioned over and over again, can of course be very beneficial to an active lifestyle!

Rule of thumb:

always look for a protein powder with MINIMAL ingredients and no artificial sugars. That's why I use About Time! Lately I've been using their vegan line more than anything else! (You can order samples or tubs of their whey, vegan or casein HERE with the code fff1 for 25% off)
You can add some other yummy, nutritious "mix-ins" like dark chocolate chips, coconut, nuts, dried fruit, ect. The sky is the limit!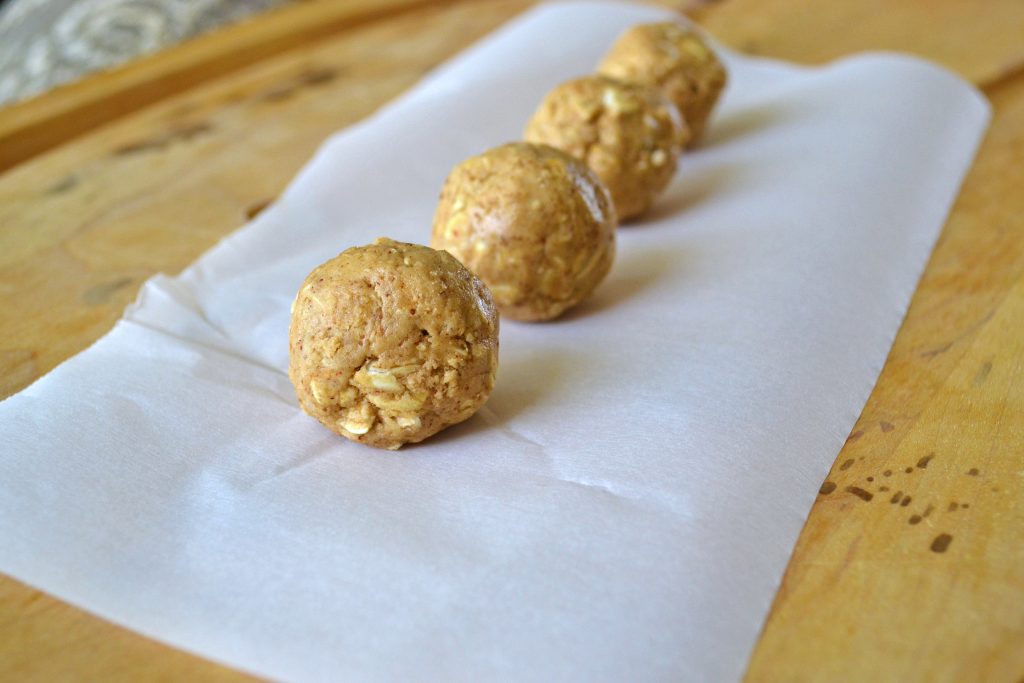 So now that I've told you all the reasons you SHOULD make these no bake peanut butter energy bites…what are you waiting for?!
And of course as always, some questions for YOU!
What is your favorite way to eat peanut butter? Toast? By the spoon? (guilty) On apples? Bananas?
Does that honey photo of me scare you or make you laugh? (Glad those bees are photoshopped in!)
What's been your favorite recipe of mine over here so far??
Want to be added to a list of a REALLY COOL WEBINAR on the top 10 nutrition myths coming up that's free? I'll be sending emails about it soon so put yourself down on the list to receive them! CLICK HERE
xo, Sarah Grace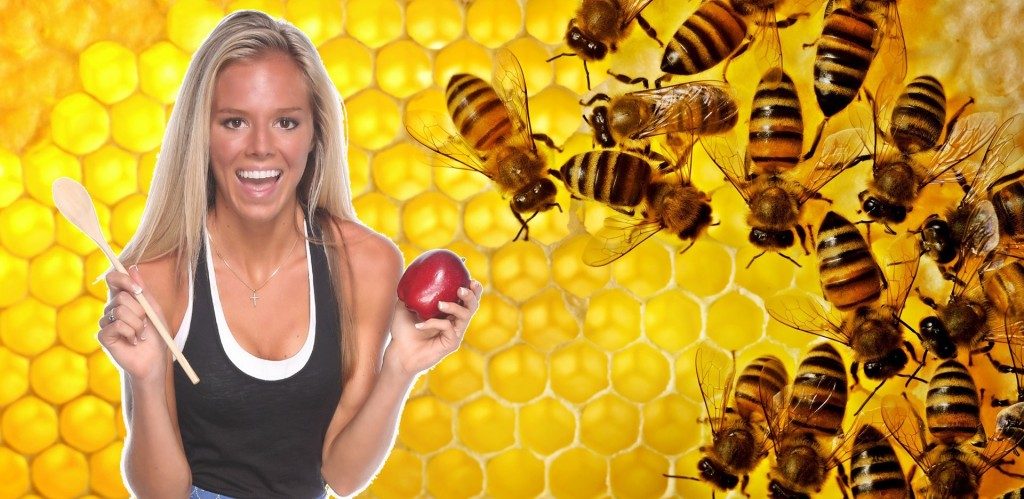 Ingredients
1 cup Rolled Oats
⅔ cup Peanut Butter
2 tbsp Honey
Optional: ¼-1/2 cup Protein Powder**
Optional: Mini Chocolate Chips, Coconut, Nuts, Dried Fruit
*If you add protein powder, you will most likely have to add some liquid to get everything to come together -- I typically use almond milk or water
Instructions
Add all ingredients to a bowl and mix together.
Add liquid if needing it due to protein powder (see notes for protein I use)
Refrigerate mixture for at least 30 minutes.
Roll into balls and refrigerate in sealed container until eating.
Notes
** I use About Time Protein. Order
HERE
for 25% off (samples or tubs) with the code "fff1"