Fall is upon us friends! Here are 15 healthy Fall food staples you should have on hand to make all the delicious fall favorite recipes.
September 23rd = the first day of FALL. I'm like a giddy little girl on Christmas morning because I LOVE the Fall season and the entire holiday season! I thought since Fall comes this weekend, what better way to prepare you best than to share some Fall food staples to make all those yummy drinks, baked goods and hot meals.
Tell me after reading my list, what fall food staples are a MUST for your kitchen? I think I could go on and on like I did in my 60+ pumpkin recipe post, but for your time's sake, I narrowed it down to 15.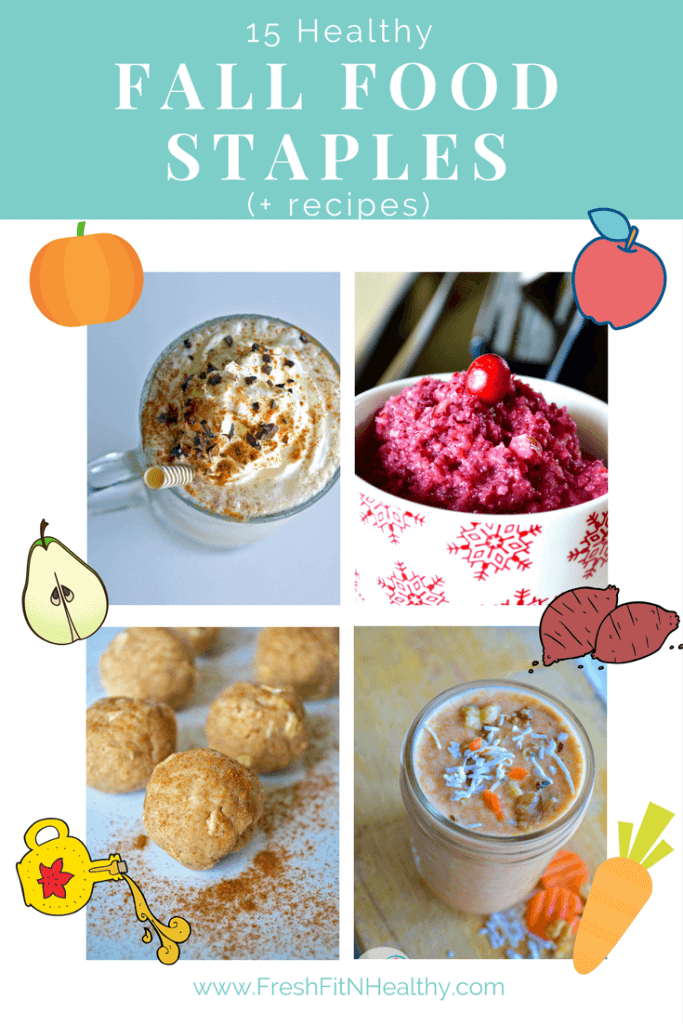 15 Healthy Fall Food Staples to Have on Hand
Canned Pumpkin
You all know just how much I love pumpkin. So much so that I have a whole recipe tab reserved just for it. But I'm not just putting it first because I'm biased, it's a superfood with tons of nutrients!
Canned pumpkin is always good to have on hand, whether it's to make soups like this delicious pumpkin one I found here, protein bars for the week like these I made awhile back, frozen yogurt like this one, pumpkin nut butter by simply adding some to store-bought butters or making your own like I did, baked goods like these protein pumpkin muffins or protein pumpkin doughnuts, pumpkin apple butter cooked slowly in a crockpot (mmm I can smell it now), or simply adding it to smoothies with some cinnamon for a delicious fall taste!
If you really are a pumpkin lover like me, check out this post of 60+ pumpkin recipes I wrote last Fall!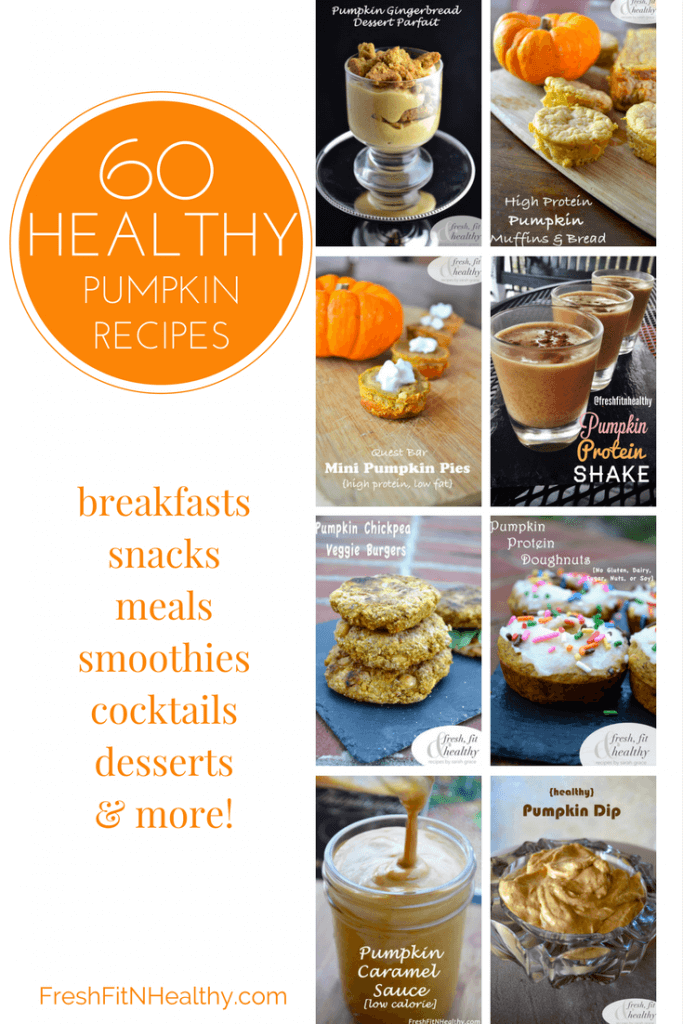 Sweet Potatoes
Another beta carotene packed food that are great, healthy fall food staples are sweet taters! They are rich in vitamin A and iron too.
You can roast them plain in the oven and enjoy as is with just a little cinnamon, make the oh-so-loved sweet potato casserole, try something new like my sweet potato gingerbread edible cookie dough, my sweet potato nut muffins, my sweet potato brownies, or my sweet potato corn fritters!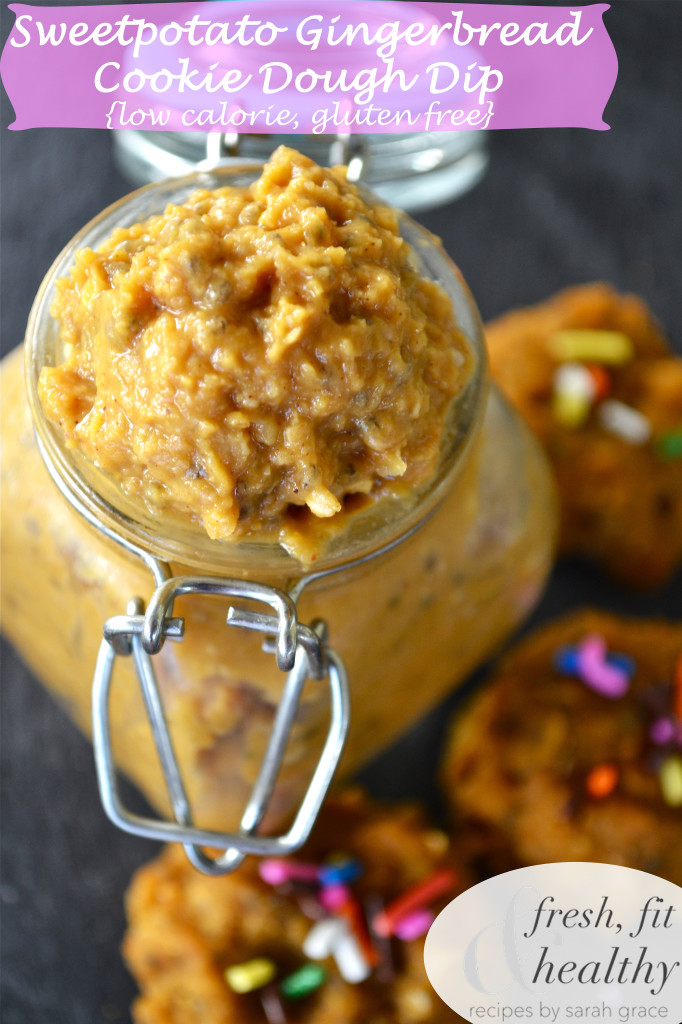 Pecans (& other nuts)
Nuts make so many delicious recipes, and pecans especially are known to be great fall food staples for the most comforting of foods! Not only are they super yummy, but they are a healthy source of fat — which is essential for so many of the body's processes.
Try out  this Maple Pecan Oatmeal by Nutrition in the Kitch.
Winter Squash
Winter squashes come in so many forms yet all are delicious and healthy to include in fall meals! They are high in vitamin A, and pair best with the sweet fall flavorings like cinnamon, maple syrup and pumpkin spice.
Make them as a side dish like these acorn squash flowers, into a soup like this delicious looking soup, or this butternut squash hummus!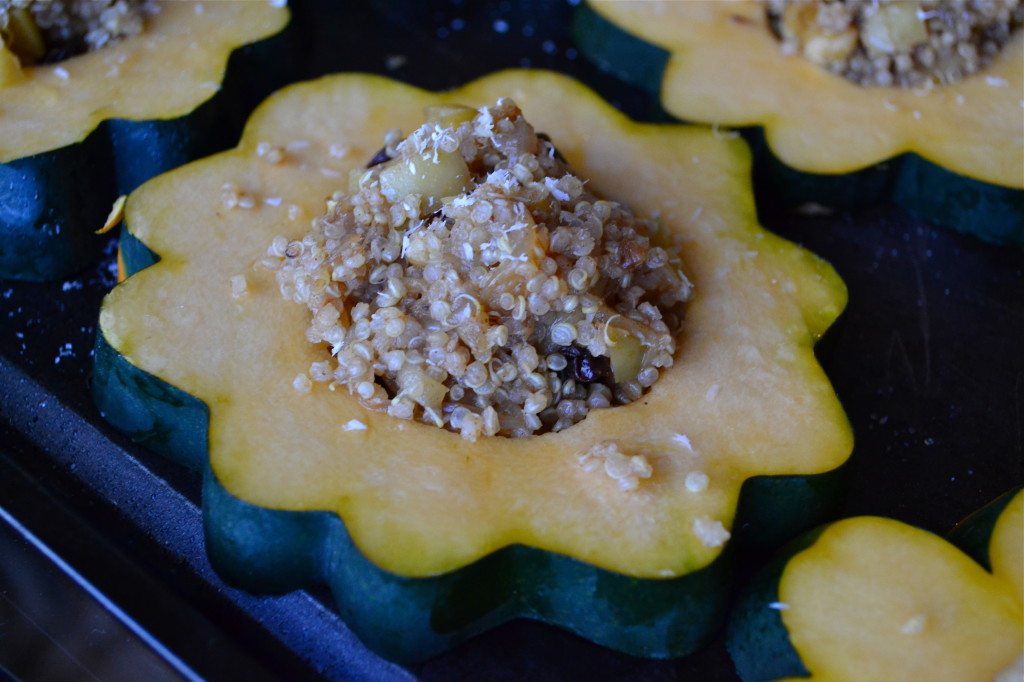 Oats
Oats are a great source of soluble fiber which helps keep you full and lower bad cholesterol! They are another falling under the fall food staples because of all the yummy fruit crisps, no bake cookies, creamy dreamy breakfasts recipes, and other recipes you can make with them!
Try out these no bake energy bites, single serving banana bread bake, these apple ring pancakes, mint chocolate oats, super filling ZOATS, or my multitude of overnight oats in so many flavors: Cookie Dough, Red Velvet, Banana Bread, and Banana Chia Oats!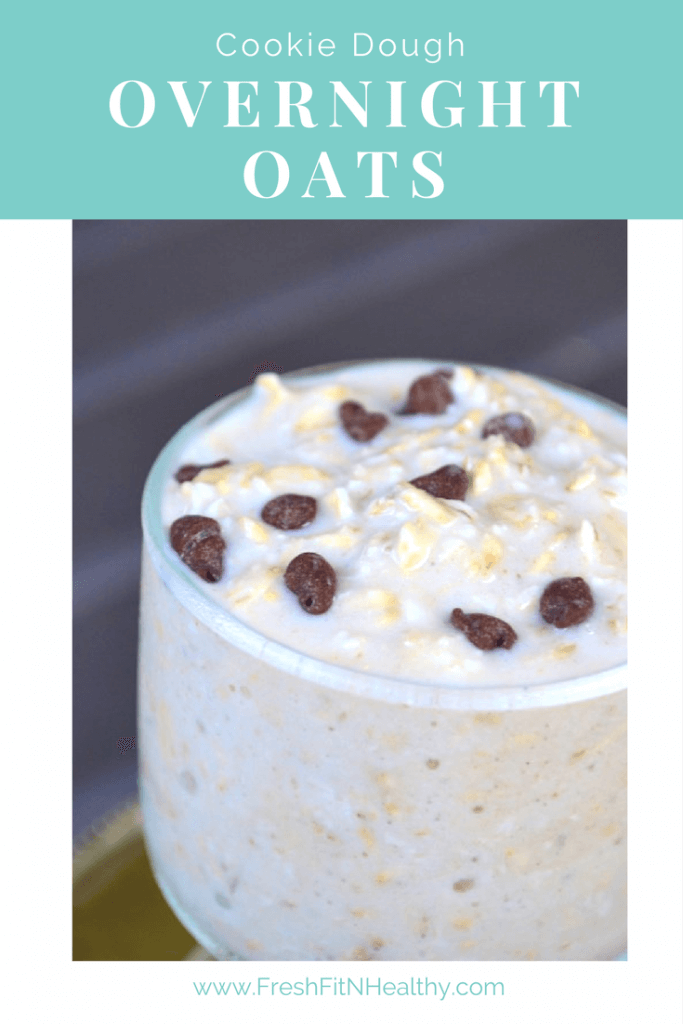 Chickpeas
Chickpeas are a fall favorite because they are great for soups, homemade hummus (even sweet varieties), and simply roasting and having as a snack, whether sweet with cinnamon or savory!
If you're fearless and willing to try beans in sweet recipes… try all of my edible cookie dough recipes! Edible CC Cookie Dough, Pumpkin Cookie Dough, Cookie and Cream Cookie Dough Truffles, Sweetpotato Cookie Dough, Healthiest Brownie Batter, and my Black Bean Brownies!
Not fearless enough? Try these chickpea burgers, Sea Salt Roasted Chickpeas, or my Homemade Pumped Up Hummus!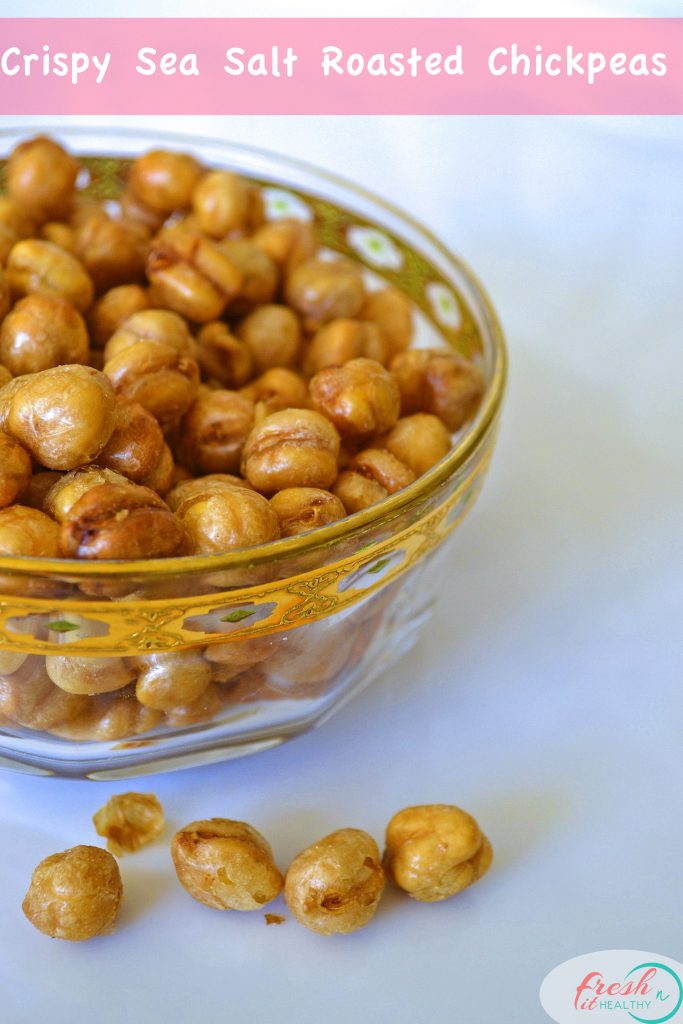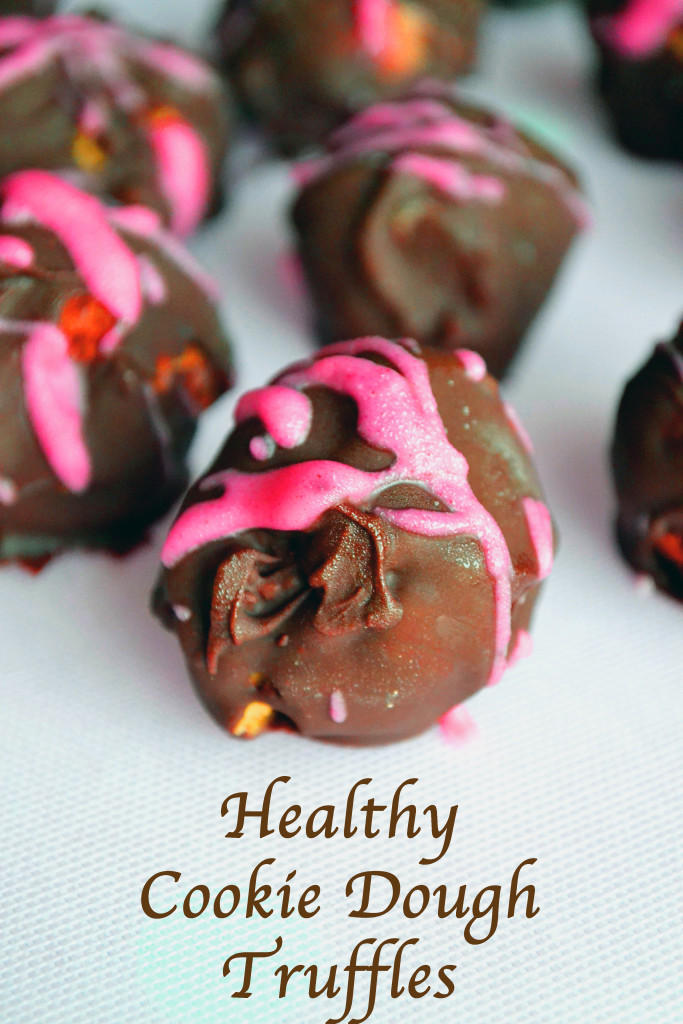 Parsnips
Think of a combination of a potato and carrot, an you've got a parsnip! They are crunchy like carrots yet almost white in color and sweet when cooked! They are great for roasting with a mix of all root vegetables as a side, or making some yummy parsnip fries!
Try out these roasted parsnips, since I haven't yet shared my momma's delicious parsnip and carrot recipe on here!
Carrots
Rich in beta carotene, vitamin A, and fiber. Carrots are another great vegetable like parsnips to roast and serve as a holiday side, add to smoothies, or make carrot cake oatmeal! Or use 'em to create a delicious carrot cake recipe, or my carrot cake smoothie!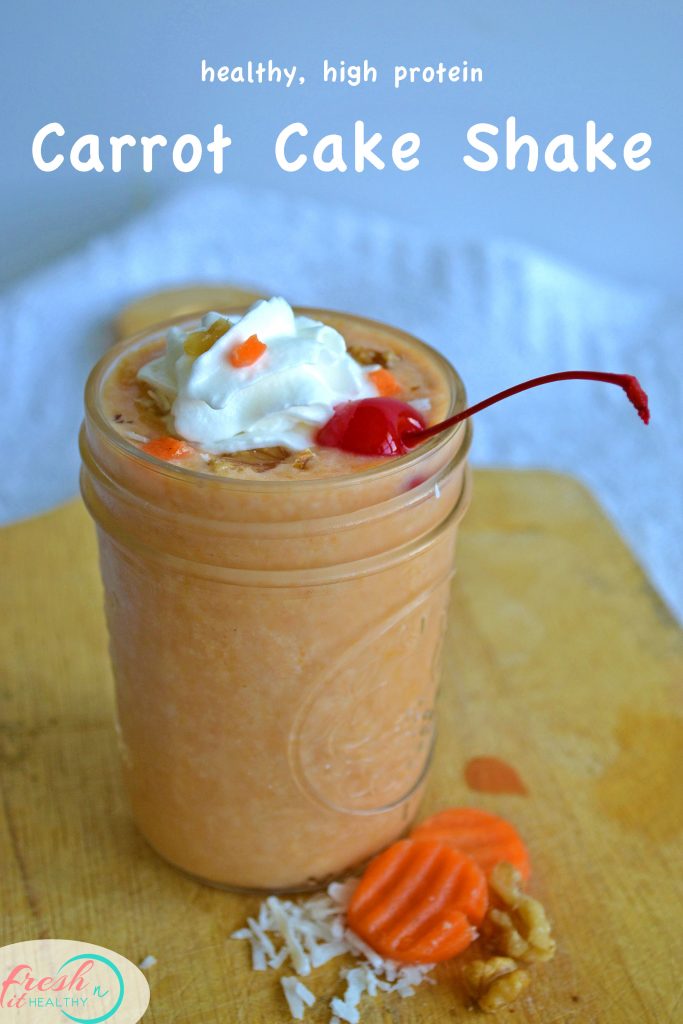 Apples
I can just smell the cinnamon roasted apples as I write this. Have you ever sautéed some diced apples in a little coconut oil and cinnamon, or roasted whole apples with a little butter in the oven? If not, you're missing out on a fall favorite!
Here's some other good apple recipes, because you know what they say, an apple a day keeps the doctor away! Apple Ring Pancakes, No Sugar Added Apple Breakfast Tart, Apple and Cheddar Scones, Crockpot Apple Butter, Caramel Apple Pie Smoothie, Apple Turkey Salad, Apple and Spinach Turkey Meatballs, or just layer some apples and brie in this delicious and easy leftover sandwich!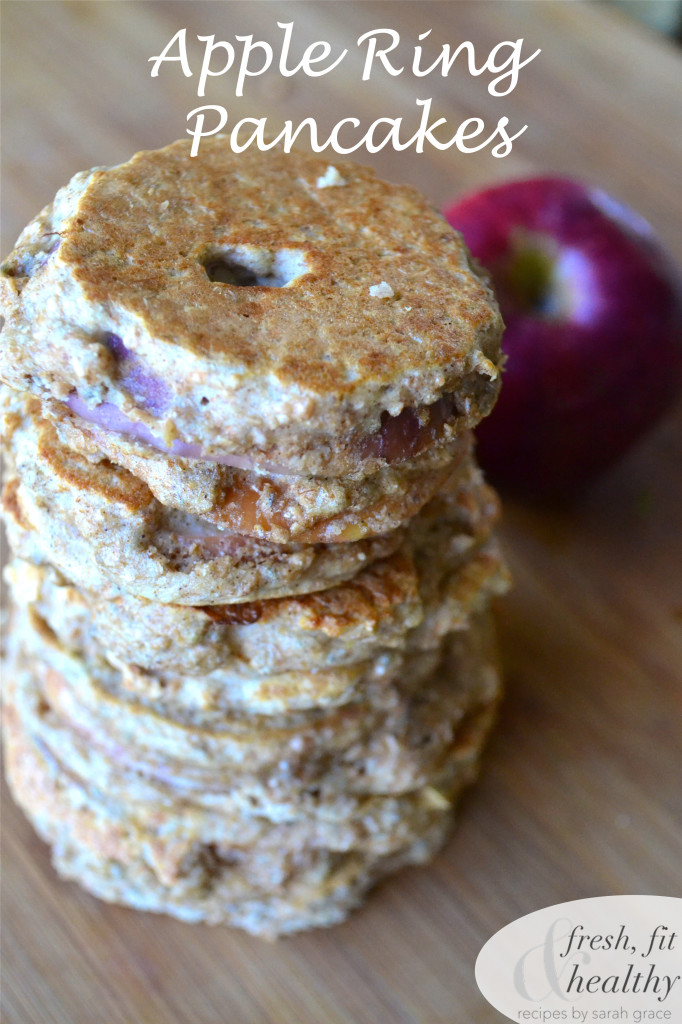 Pears
Just like apples are high in fiber and rich in nutrients, and deliciously sweet when roasted and used in recipes, so are pears!
I haven't personally used pears in any recipe yet except my apple and pear breakfast tart (don't know how, crazy!), but here are a few good ones I found: Spinach Pear and Goat Cheese Salad, Pear Smoothie with Apple Butter, Poached Pears with Walnut Granola, and Cinnamon Pear Cake!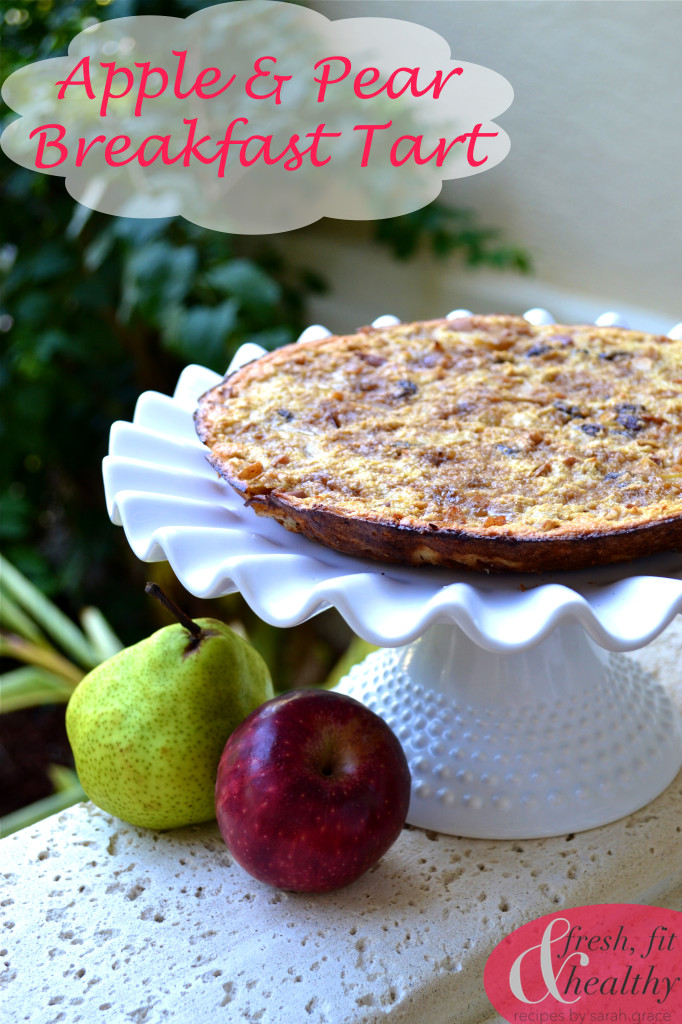 Pomegranates
Mmm, despite being annoyingly hard to get out of the fruit, they are so fun and I love the crunch! Not to mention, loaded with nutrients and are anti-inflammatory.
Throw them on top of salads to add some color and crunch, like in this Blue Cheese and Persimmon Salad, or in a smoothie like this Green Pear one!
Cranberries
A very well known holiday food, cranberries were sure to make the list as a fall food staple! Cranberries have been linked with greater immune function, lower risk of certain cancers, and decreased blood pressure.
Try out this delicious DIY cranberry sauce I make every holiday, or this new and improved paleo raw cranberry sauce I made last year, or these pumpkin cranberry cookies!
Another way I love them? Using the dried cranberries (along with sautéed apples and pecans) to stuff brie cheese before baking. YUM.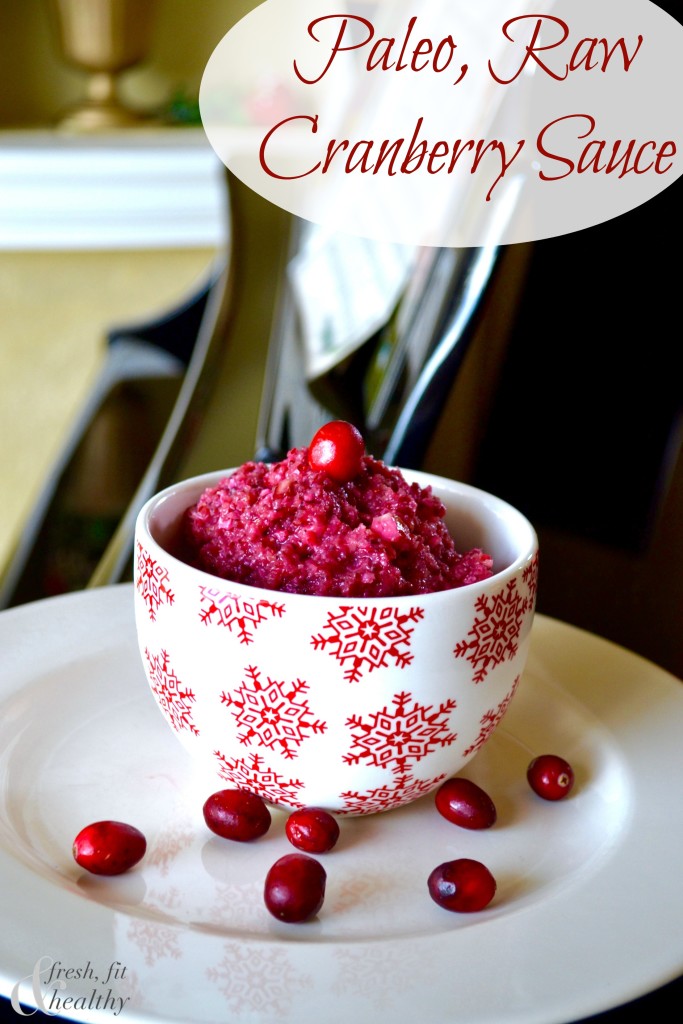 Dates
What I love most about dates, is they can take the place of ANY sweetener..which quickly made them my go to during my sugar detoxes I used to do. But not I've realized they are even a great replacement for bananas in smoothies, because they give the sweetness bananas would, yet also are higher in potassium!
Anyways, they are perfect for any raw desserts like my mini tarts here, or DIY caramel sauce like found here, my chocolate date biscotti's,  or a great sweetener blended up in any smoothie!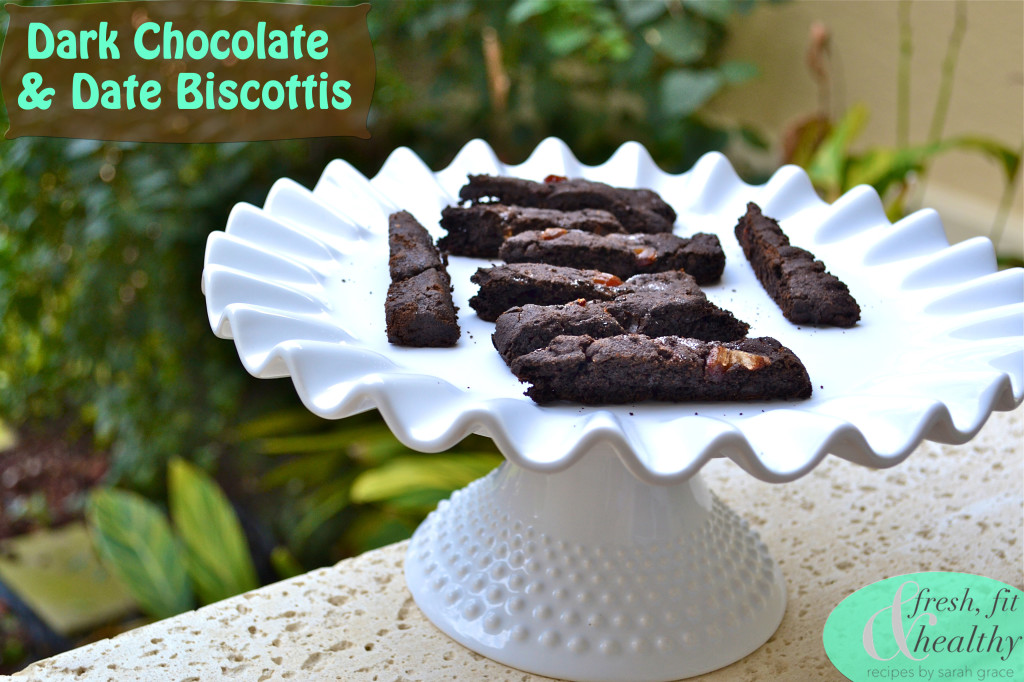 Maple Syrup
If you're going to use a sweetener during Fall, I feel like maple syrup is the Fall staple you typically go with! As much as I say it's good to decrease sugar in your diet, a little does no harm. And I much rather a little bit of the REAL stuff, than some of those fake alternatives out there that typically just lead to overeating it anyways.
I tend to use all natural stevia or no added sweetener in most of my recipes, but I do have a few that call for maple syrup or honey (which can be easily subbed for maple syrup!)  My Raw Cranberry Sauce uses it, homemade maple walnut butter, protein snickerdoodle bites, and then this delicious one I found on Lemon Tree Dwelling, Maple Banana Yogurt Parfait!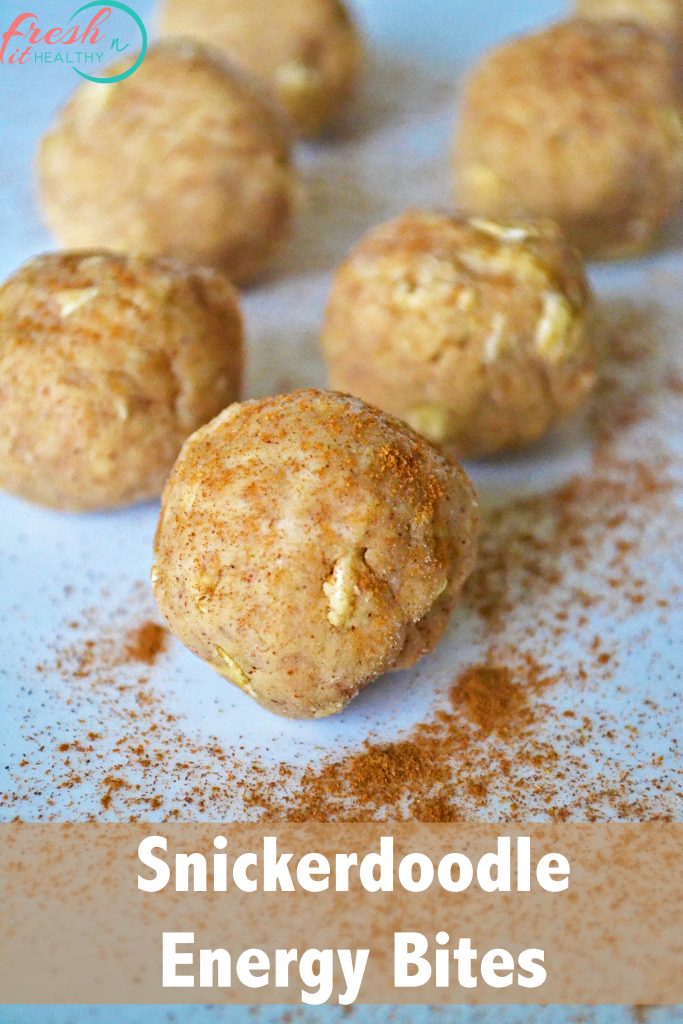 Pumpkin Spice/Cinnamon
You may not think spices make THAT big of a difference, but oh do they! Cinnamon is something I add to almost everything. Okay not everything, that was an exaggeration. Definitely don't add it to my morning eggs or avocado toast. But I add it to about everything in the sweet category to add flavor without calories/sugar! To my oatmeals, protein bars, protein bites, baked goods, smoothies… yeeeup, just about everything. And it has so many benefits, like being anti-inflammatory and good for digestion! Oh and pumpkin spice is basically cinnamon..with a couple more delicious spices added 🙂
Some great recipes: My Cinnamon Roll No Bake Protein Bites, Cinnamon Sugar Tortilla Chips, Cinnamon Spiced Chickpeas, Cinnamon Apple Quinoa, Cinnamon Spiced Corn Fritters, Cinnamon TOAST CRUNCH CEREAL (um yeah!), and Cinnamon Roll "Milk Shake".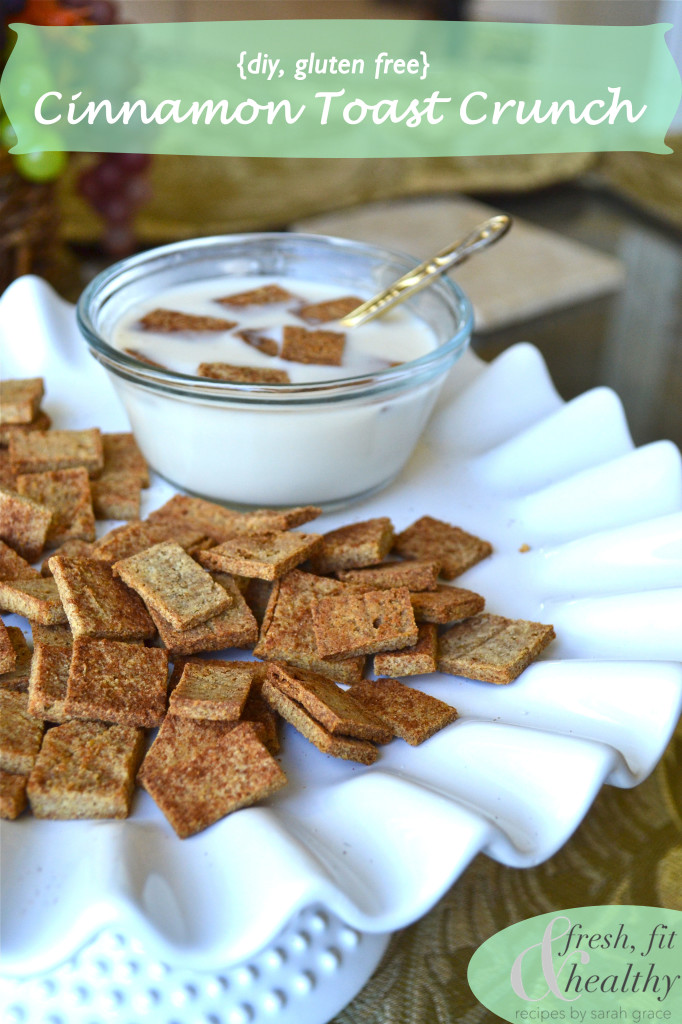 Vanilla Extract
This is something that you add SO little of, yet makes SUCH a big difference! I love all different flavor extracts, but vanilla is my ultimate go-to, especially around the holiday season! A little goes a long way.
If you don't have this on hand, its a necessity to boost the flavor in SO many recipes…including your grandma's not so #freshfitnhealthy cookies. Once you start using it, you'll never go back! Even just added a little to plain yogurt with fruit, boosts the flavor so much! Almost ALL of my sweet recipes include vanilla, because it makes such a difference. MY favorites: DIY Vanilla Bean Frappuccino, Vanilla Latte Chia Pudding, and ALL my ice creams and frozen yogurts (because alcohol prevents ice crystals/the icey texture, and vanilla extract is basically vodka with vanilla bean soaked in it!): Double Chocolate Protein Frozen Yogurt, Cookie Dough Blizzard, 3 Ingredient Froyo Bites, and my Gingerbread Frozen Yogurt!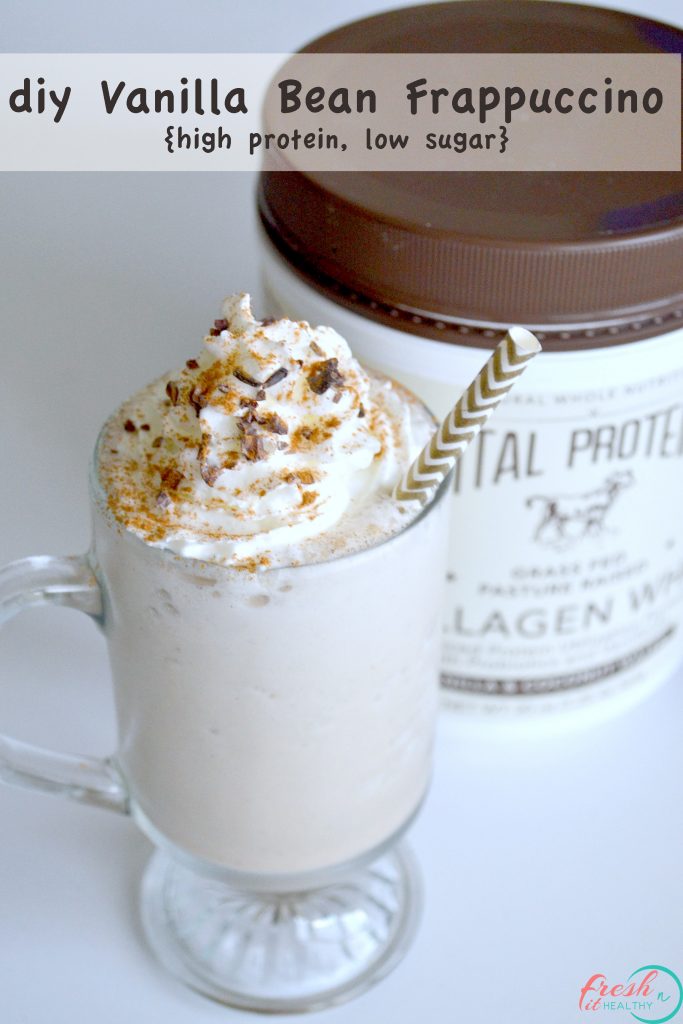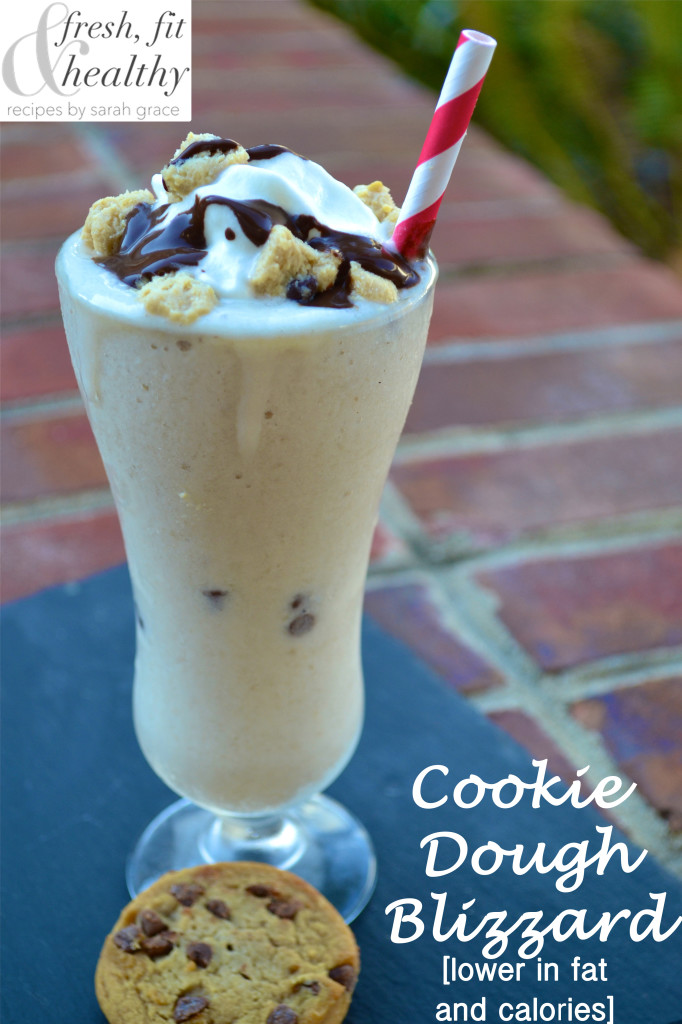 So there you have it, 15 Healthy Fall Food Staples to make sure you have on stock going into this FALL SEASON.
So tell me, what's your favorite fall food or recipe friend??